13 New Episodes Set to Premiere Starting Friday, July 1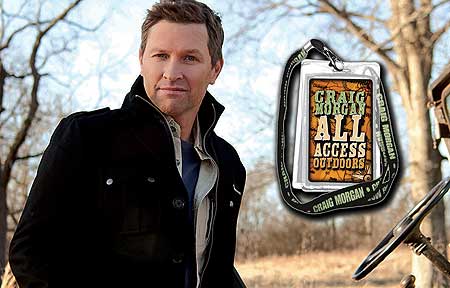 Nashville, TN -(AmmoLand.com)- With a brand new album, A Whole Lot More To Me, and the seventh season of his hit television show, "Craig Morgan: All Access Outdoors" premiering on July 1 on Outdoor Channel, summer is heating up for country music entertainer, military veteran and award-winning TV host CRAIG MORGAN!
Days after the release of his revealing new record, Morgan is setting the stage for the 13 episode seventh season of his award-winning show on Outdoor Channel. "Craig Morgan: All Access Outdoors" will premiere in a new primetime slot on Friday, July 1 at 7 pm EST/4 pm PST on Outdoor Channel with repeat airings on Friday and Sunday. Friday night is mega country music night as Morgan's new season joins "Nick's Wild Ride," along with classic and modern western cinema blockbusters on the network. Check local listings or visit www.OutdoorChannel.com/ChannelFinder to find out how to get the network in your area.
Morgan's dynamic personality, lifelong love of the outdoors and considerable television experience make "Craig Morgan: All Access Outdoors" a must-see for outdoor enthusiasts and music fans alike. Adventures in the seventh season include travels to New Zealand, Hawaii, Vancouver and beyond while tracking tahr, turkey and elk. In between escapades, fans will witness Craig entertaining crowds at concerts, dirt track racing and hitting the green. Celebrity guests along for the wild rides include NBA star David Miller, NFL's Tyler Eifert, American author and military veteran's family activist Taya Kyle, and fellow country stars Blake Shelton and Easton Corbin.
To celebrate the upcoming seventh season, Morgan and Outdoor Channel conducted a Facebook Live session in mid-June, with another planned in the weeks to come to answer viewer questions on his most memorable hunting experiences and his favorite species to hunt.
The Black River Entertainment recording artist's ninth album, A Whole Lot More To Me, released June 3rd and includes the new single, "I'll Be Home Soon." Co-produced by Craig and Byron Gallimore (Tim McGraw, Faith Hill, Lee Ann Womack), Morgan co-wrote nearly half of the album's tracks with some of Music City's hottest writers like Josh Osborne, Kevin Denney, Jim McBride and Phil O'Donnell.
About Craig Morgan:
A multi-faceted entertainer, CRAIG MORGAN has made a name for himself as a country music icon, TV host, celebrated outdoorsman and patriotic Army veteran. One of country music's best-loved artists, the Black River Entertainment artist thrills massive crowds with signature hits, including "Bonfire," Almost Home," "Redneck Yacht Club," "International Harvester," "This Ole Boy," Wake Up Loving You" and the six week #1, "That's What I Love About Sunday." Morgan's new album, A Whole Lot More To Me, featuring singles "I'll Be Home Soon" and "When I'm Gone," was released June 3 by Black River Entertainment. Craig received one of country music's highest honors when he was inducted as a member of the Grand Ole Opry in 2008. In addition to a prolific country music career, he hosts the award-winning TV show "Craig Morgan: All Access Outdoors," set to premiere its seventh season on Outdoor Channel. Prior to becoming a country music star and TV sensation, Morgan spent seventeen years serving our country in the Army and Army Reserves. He is an avid supporter of America's military personnel and a recipient of the 2006 USO Merit Award.
For more information on Craig Morgan, visit www.craigmorgan.com and engage with him on Facebook, Instagram and Twitter.
About Outdoor Channel:
Outdoor Channel has been taking viewers across America and around the world on unparalleled adventures since 1993. Dedicated to the outdoor lifestyle and conservation, the independent cable network is a division of Outdoor Sportsman Group and provides a complete spectrum of riveting hunting, fishing, shooting and adventure entertainment. Outdoor Channel is received by more than 40 million U.S. households – the largest outdoor TV footprint in the country – and is available in more than 50 countries internationally. Outdoor Channel can be viewed in HD and is accessible by broadband and mobile platforms. Follow us on Twitter, Instagram, Facebook and YouTube, and download our iPhone and iPad app. #WhatGetsYouOutdoors
For program times and other information, visit www.outdoorchannel.com.