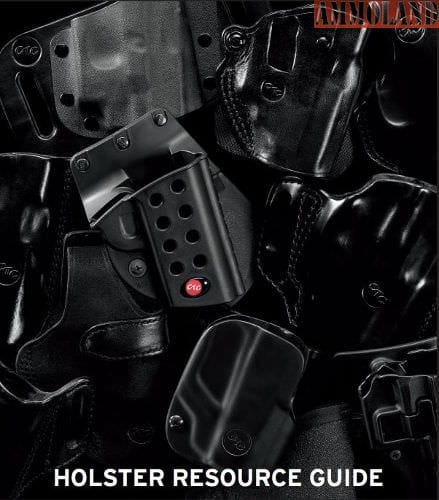 Wilsonville, OR -(AmmoLand.com)- Crimson Trace, the world's most recognized and purchased brand of laser sights, is again expanding its lead in the firearms accessory category.
The company continues its lead as a firearms accessory manufacturer by significantly helping customers with holster selections. This continuing holster assistance comes on the heels of the recent expansion of the packaging of a Crimson Trace Laserguard or Laserguard Pro combined with a custom Blade-Tech holster.
Those special Crimson Trace laser sights plus Blade-Tech holster packages are specifically designed to equip and fit nearly a dozen pistols, ranging from Ruger's LC9 pistol up to Springfield Armory's XD-S. There are also Laserguards paired with holsters for Smith & Wesson's SHIELD, GLOCK's model 42 and 43 pistols, and Sig Sauer's P238 and P938 pistols. The new Laserguard Pro (LL-801) light and laser unit designed for the S&W M&P Shield is also available with this holster package offering. The great news for handgun owners is that two dozen holsters paired with a Crimson Trace Laserguard will soon be available.
Crimson Trace also continues to offer customers additional holster help with an innovative and FREE online holster guide at www.holsterresourceguide.com. This comprehensive resource guides Crimson Trace customers in selecting the best holster option(s) for firearms equipped with the company's laser sights. The easy-to-follow website guide is based on: the Crimson Trace product, firearm manufacturer and handgun model, available holster manufacturer, and then the available holster models. This holster guide is open for everyone and does not require an access code.
The great news is that this comprehensive resource website provides information from nearly two dozen holster manufacturers and covers more than 2,000 holsters. Crimson Trace has partnerships with numerous holster suppliers and manufacturers, including: BLACKHAWK!, Blade-Tech, CrossBreed, DeSantis, Galco, Mitch Rosen, Tactical Tailor, Bravo Concealment, and others. These ongoing partnerships mean that when a new Crimson Trace product is released to retail outlets, the holsters are also readily available for purchase by customers.
All the holster details can be found at www.holsterresourceguide.com. Other holster and laser sight details can be found in Crimson Trace's online store at www.crimsontrace.com.
ABOUT CRIMSON TRACE:
Crimson Trace, based in Wilsonville Oregon, is the acknowledged world leader for laser sighting systems and tactical lighting for firearms. The company offers more than 200 products and its award-winning innovations include: LiNQ, Lasergrips, Laserguard, Laserguard Pro, Master Series and Lightguard  –all with Instinctive Activation. The company's product line also includes theDefender Series and Rail Master platforms. Crimson Trace proudly serves civilian, law enforcement and military markets around the globe.
More details are available at www.crimsontrace.com or by calling 800-442-2406.