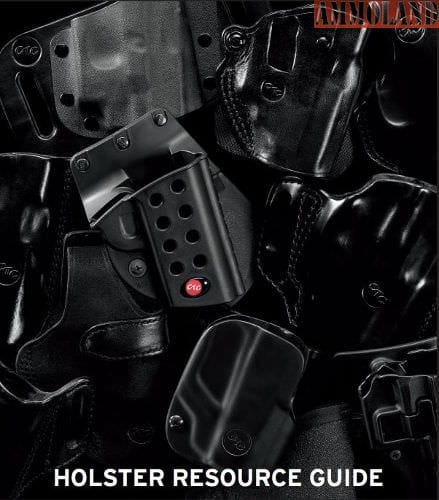 Wilsonville, OR -(AmmoLand.com)- Crimson Trace set a new high standard in customer service and assistance in 2015 with the release of a FREE online holster guide at www.holsterresourceguide.com.
Now, the Wilsonville, Oregon-based laser sight manufacturing company has raised the bar higher with an updated holster resource guide that offers full details on more than 3,000 holsters.
The easy-to-understand online holster resource guide helps Crimson Trace customers select the best holster option(s) for their laser-equipped firearm. The website helps customers make selections based on: the Crimson Trace product installed, the firearm manufacturer and specific handgun model, and then matches that information with a holster manufacturer and the available holster models. The FREE holster guide is available for everyone without need for an access code or purchase.
Website visitors will discover that there are a large number of holster options covered. More than two dozen manufacturers have products profiled, including: Alien Gear Holsters, BLACKHAWK!, Blade-Tech, CrossBreed, DeSantis, Galco, Mitch Rosen, Tactical Tailor, Bravo Concealment, Tuff Products and others.
As Crimson Trace develops new laser sight models, the company works closely with holster manufacturers to develop forms and create precise dimensions for a best fit. All the details—and resulting holsters—are provided at www.holsterresourceguide.com.
Another easy-to-use source of holsters and information is Crimson Trace's online store at www.crimsontrace.com. The website offers a full line of holsters—detailed in images—that will fit many handguns, including: 1911s, Beretta, Kimber, Ruger, Smith & Wesson, Springfield Armory, and others. Some Crimson Trace laser sights and lights are also sold in a package with a ready-to-use holster included, such as the new Laserguard LG-492 HBT with red laser and Blade-Tech holster that fits Sig Sauer's P238 and P938 pistols. All items in one package.
Crimson Trace is widely recognized as the world's leading manufacturer and distributor of laser sights. The company strives to make laser sights as standard equipment on concealed-carry and personal-defense firearms. For more than twenty years, Crimson Trace has equipped America's gun owners, law enforcement officers and military units around the globe with the largest selection of award-winning laser sight and tactical light products.
Full details are at www.crimsontrace.com or available by calling 800-442-2406.
ABOUT CRIMSON TRACE:
Crimson Trace, based in Wilsonville Oregon, is the acknowledged world leader for laser sighting systems and tactical lighting for firearms. The company offers more than 200 products and its award-winning innovations include: LiNQ, Lasergrips, Laserguard, Laserguard Pro, Master Series and Lightguard  –all with Instinctive Activation. The company's product line also includes theDefender Series and Rail Master platforms. Crimson Trace proudly serves civilian, law enforcement and military markets around the globe.
More details are available at www.crimsontrace.com or by calling 800-442-2406.