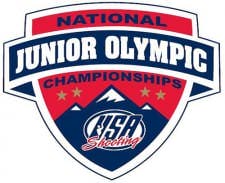 USA–-(Ammoland.com)- There's a rhythm and cadence to Double Trap. Hank Garvey matched it perfectly Friday afternoon while dancing his way to the shotgun discipline title at the 2016 National Junior Olympic Championships being held at USA Shooting's International Shooting Park just outside Colorado Springs, Colorado.
The 17-year-old dancin' Double Trap shooter marched his way to his first Junior Olympic medal, reaching a goal that took five years to complete after coming to Colorado Springs to compete nationally for the first time as a 12-year-old in 2011. He did so by being first in qualification, shooting a 131/150, and then not giving anything back in a perfect dance through a semifinal round and then in his match-up with Jacob Hochhausler (Tampa, Florida). A perfect 60/60 in those two rounds left no doubt as to the class of the field on this day and reconfirmed Garvey's National Junior Team status.
You could see this moment coming after the recent U.S. Olympic Team Trials in Tillar, Arkansas, where he earned a spot in both Finals, beating Olympian Jeff Holguin for a bronze in one and settling for silver in a match-up against Derek Haldeman in the other. Garvey (Newburyport, Massachusetts) was the high junior during the two-part Olympic Team Trials.
Watching Garvey on the line, you'd swear he was at a concert or nightclub. The way he moves on the line before and after every shot runs contrary to the stoic, concentrated position seen by most of his competitors. The music is in his head, usually from a song he listens to before dismantling the 30 targets in front of him every round.
"My routine is getting a random song stuck in my head, it's like elevator music for me. Instead of focusing on my breathing and focusing on what I shouldn't be focusing on, I just get a song in my head and don't think about anything other than the song."
Before today's Final, the song was One Dance by Drake. Prior to his gold-medal match, he went old school, striking up the 1981 classic Start Me Up by Rolling Stones.
Whatever the method, It's working and now he'll try in lock-in on more hardware next month during the 2016 USA Shooting National Championships.
Hochhausler earns National Junior Team status as a result of his second-place finish. Earning a spot on the USA Shooting's Junior Olympic Squad was bronze medalist Tyler Taylor (Wickenburg, Arizona), after defeating Tyler Deyo (Johnstown, Ohio) in the bronze-medal final. 2015 Junior National Champion Dale Royer (Jackson, Montana) was fifth followed by Gunner Hall (Circleville, Ohio). Hall would finish as the J2 (ages 15-17) gold medalist while Kael Richmond (Ankeny, Iowa) was the J3 (ages 14 and younger) champion.
National Junior Olympic Results
National Junior Olympic Photos
Friday also saw the first 75 targets in Men's and Women's Skeet. Nic Moschetti (Broomfield, Colorado) and Garrett Coles (Fannin, Texas) are atop the men's leaderboard at 71/75. Five other competitors sit just one back. After shooting the only perfect round to close things out Friday, Sydney Carson (North Liberty, Indiana) goes into Saturday with a one-day lead over Katie Jacob (Rochester, Michigan).
Competitors qualified for an invitation to the NJOSC with top scores in their respective State Junior Olympic Championships. The competitors range in age from 10 to 20 years old, and are classified according to age as J1 (ages 18-20), J2 (ages 15-17) or J3 (ages 14 and younger).
Athletes earned their way to Junior Olympics by qualifying through state qualifying matches with 21 states conducting competition for 515 participants. Shooters from 31 states are represented at this year's Junior Olympics. The Lone Star State is well-represented with 23 athletes participating from Texas.