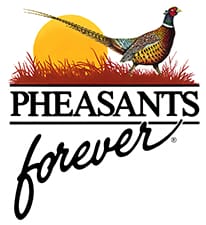 Davenport, Iowa–-(Ammoland.com)- Pheasant hunters in eastern Iowa have revived one of the state's oldest and most successful Pheasants Forever chapters to support a growing pheasant population in the region. Officially titled as the Scott County Chapter of Pheasants Forever, local volunteers are focusing on wildlife habitat conservation efforts in Scott County to help restore and preserve the area's renowned pheasant hunting traditions.
Located near the infamous "I-80 corridor" of Iowa's pheasant range, Scott County saw a number of years (2008-2013) with dismal pheasant production and miserable fall populations due to significant weather events and habitat losses during this five-year period. Being offered a respite from Mother Nature since 2014, ring-necked pheasants in eastern Iowa logged their highest roadsides counts since 2007 this past fall, signaling a full recovery from years prior that dropped the region's August Roadside Survey to a mere 4.2 pheasants-per-route average. The Scott County Chapter of Pheasants Forever gained momentum from this positive news by mobilizing pheasant hunters to restart the chapter and provide support for upland wildlife in the region.
"Iowa's resurgent pheasant population is providing motivation for our chapters to continue knocking down great upland wildlife habitat projects; this enthusiasm carried over to a new group of volunteers to revitalize a great local committee in Scott County," stated Eric Sytsma, Iowa's regional representative for Pheasants Forever & Quail Forever.
Scott County Chapter of Pheasants Forever
The Scott County Chapter of Pheasants Forever has elected Donnie Collins of Buffalo as president, Bob Bryant of Davenport as habitat chair, Debi Thein of De Witt as treasurer, and Konrad Kraklio of Wheatland as youth/education chair.
The chapter will hold its next meeting on Wednesday, June 15, at 6:00 p.m. at Thein Insurance & Financial Services (4811 N Brady Street, Suite 7 – Davenport, Iowa 52806). Hunters and conservationists interested in joining the chapter as volunteers are encouraged to attend.
For more information about the chapter or to become involved, contact chapter president, Donnie Collins, at (563) 370-1676 or [email protected]
Pheasants Forever & Quail Forever chapters in Iowa account for more than 20,000 members statewide. Those chapters have spent $50 million to complete 117,818 habitat projects impacting more than 1.1 million acres for wildlife habitat conservation. For more information regarding Pheasants Forever & Quail Forever in Iowa or to start a local chapter, contact Eric Sytsma at (515) 423-4747 / email.
About Pheasants Forever
Pheasants Forever, including its quail conservation division, Quail Forever, is the nation's largest nonprofit organization dedicated to upland habitat conservation. Pheasants Forever and Quail Forever have more than 149,000 members and 700 local chapters across the United States and Canada. Chapters are empowered to determine how 100 percent of their locally raised conservation funds are spent; the only national conservation organization that operates through this truly grassroots structure. Since creation in 1982, Pheasants Forever has spent $634 million on 502,000 habitat projects benefiting 14.1 million acres nationwide.