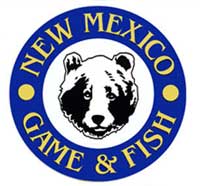 JEMEZ MOUNTAINS, NM –-(Ammoland.com)- Exactly one week after an adult female black bear was euthanized following an attack on a woman participating in a marathon event on the Valles Caldera National Preserve near Los Alamos, New Mexico Department of Game and Fish conservation officers dispatched the message so many were hoping to hear, "We've got them. We caught the cubs!"
Last Thursday, a National Park Service (NPS) biologist spotted the cubs and contacted the Department. Officers responded only to find they had once again managed to slip away. Over the next few days, efforts increased to find the cubs and on Saturday, it paid off when the Department's tracker and an officer located the cubs.
Using dogs, the cubs were treed late Saturday afternoon, climbing nearly 90 feet above the forest floor. Officials contacted the Public Service Company of New Mexico (PNM) with a request for assistance. A short time later a PNM boom truck arrived and a
Department officer was able to safely, and without the need to tranquilize the cubs, use a catchpole to snatch them out of the treetop.
"It is really good news that the cubs were caught," said Department Director Alexandra Sandoval. "We truly appreciate the support of the NPS, PNM and everyone else, who went above and beyond to help create a positive conclusion to an unfortunate event."

"While this positive outcome doesn't negate the sadness we all feel about last weekend's events, it does lighten our hearts knowing the bear cubs are going to survive and be returned to the wild in the future," said NPS Superintendent Jorge Silva-Bañuelos. "I want to express my sincere thanks to the Department, PNM and other partners for their tireless efforts to save these cubs."
One male and one female cub, each weighing approximately 10 pounds, were immediately transported to Dr. Kathleen Ramsay, an Española area veterinarian specializing in rehabilitating sick and injured wildlife.
Officers originally believed the bear may have had three young cubs based on den data obtained from an ongoing wildlife study. However, based on eyewitness accounts and sightings following the event, it is now believed the mother bear only had two surviving cubs at the time of the attack. Both are now in the care of Dr. Ramsay.
Each cub will cost approximately $6,000 to rehabilitate for future release back into the wild. The Land of Enchantment Wildlife Foundation (LEWF) provides financial and logistical aid to help rehabilitate the animals of New Mexico. For more information or to make a donation to help rehabilitate these bear cubs, visit the LEWF online at www.landofenchantment.org, email [email protected] or send correspondence to PO Box 957, Santa Cruz, NM 87567.