Put Your Stamp on Conservation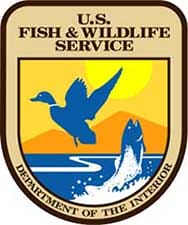 Washington, DC -(AmmoLand.com)- Hunters, birders, conservationists and stamp collectors celebrated today as the new Federal Duck Stamp went on sale.
The 83rd Federal Migratory Bird Hunting and Conservation Stamp – as it is officially called – debuted at a special event hosted by the U.S. Fish and Wildlife Service at Bass Pro Shops' flagship retail store in Springfield, Mo.
The stamp features a pair of trumpeter swans in flight painted by wildlife artist Joseph Hautman of Plymouth, Minn. Last fall, a panel of five judges chose Hautman's art from among 157 entries at the Federal Duck Stamp Art Contest, held at the National Conservation Training Center in Shepherdstown, W.Va. This was Hautman's fifth Federal Duck Stamp Contest win, tying him as the leading Duck Stamp artist of all time.
A pair of Ross's geese painted by Stacy Shen, 16, of Fremont, Calif., is depicted on the new Junior Duck Stamp, which also went on sale today. Shen's art was chosen from among best-of-show winners from states, the District of Columbia, and several U.S. territories at the National Junior Duck Stamp Art Contest held in April at the J.N. "Ding" Darling National Wildlife Refuge in Sanibel, Fla.
"The Federal Duck Stamp is a one-of-a-kind conservation tool that has made a difference for birds throughout the last eight decades," said U.S. Fish and Wildlife Service Director Dan Ashe. "This year, we celebrate the Centennial of the first Migratory Bird Treaty, between the United States and Canada, which launched the bird conservation movement as we know it today. This landmark treaty laid the groundwork for many important conservation initiatives, including the Federal Duck Stamp and Junior Duck Stamp."
The stamps are available for purchase online, at many sporting goods and retail stores, and some post offices (Federal stamps only), and at some national wildlife refuges. Go to http://www.fws.gov/birds/get-involved/duck-stamp/buy-duck-stamp.php for all buying options.
The Federal Duck Stamp is the nation's most unique and successful conservation stamp. Since the stamp's inception in 1934, sales have raised more than $800 million to protect more than 5.7 million acres of habitat for birds and other wildlife. This effort has been fueled largely by waterfowl hunters, who are required to buy a Duck Stamp each year, and often buy more than one. Birders and other outdoors enthusiasts, artists and stamp collectors also buy Duck Stamps, recognizing their benefit to species and habitat conservation beyond waterfowl and their artistic value.
Ninety-eight percent of the proceeds from Duck Stamp sales go to the Migratory Bird Conservation Fund, which supports wetland acquisition and conservation easements for the National Wildlife Refuge System.
A current Federal Duck Stamp is also good for free admission to any refuge that charges an entry fee. Of the more than 560 refuges, many offer unparalleled outdoor recreational opportunities, including hunting, fishing, bird watching and photography.
The Junior Duck Stamp Art Contest is the culmination of a year-long educational program that helps students learn about wetlands and waterfowl conservation, explore their natural world and create a painting or drawing of a duck, goose or swan as their "visual term paper" to demonstrate what they learned.
The winning art at a national contest is made into a stamp the Service sells for $5 to conservationists, educators, students and the public. Proceeds support conservation education. Since the first Junior Duck Stamps went on sale in 1993, well over $1 million has been raised, which has been re-invested in this unique conservation arts and science education program.
The 2016 Federal Duck Stamp Art Contest to select the 2017 stamp will be held Sept. 9 and 10 at the Academy of Natural Sciences in Philadelphia.
Learn more about the Federal and Junior Duck Stamps at www.fws.gov/birds/get-involved/duck-stamp.php.
About the U.S. Fish and Wildlife:
The mission of the U.S. Fish and Wildlife Service is working with others to conserve, protect, and enhance fish, wildlife, plants, and their habitats for the continuing benefit of the American people. We are both a leader and trusted partner in fish and wildlife conservation, known for our scientific excellence, stewardship of lands and natural resources, dedicated professionals, and commitment to public service. For more information on our work and the people who make it happen, visit www.fws.gov.
For more information on our work and the people who make it happen, visit http://www.fws.gov/. Connect with our Facebook page, follow our tweets, watch our YouTube Channel and download photos from our Flickr page.