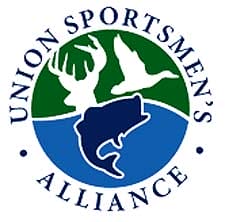 Franklin, TN -(AmmoLand.com)- The NFL Players Association (NFLPA) officially signed on to support the Union Sportsmen's Alliance (USA) as its sixteenth governing affiliate.
The decision was a result of years of dialogue discussing how the two organizations could work together to enhance the value for their members, and the partnership was solidified with the recent appointment of NFLPA Executive Director DeMaurice Smith to the USA Board of Directors.
Many NFL players and former players (Deion Sanders, Bo Jackson, Brian Urlacher, Randy Moss, Adam Vinatieri and Joe Thomas, to name a few) are avid outdoorsmen who enjoy hunting, fishing and spending time in nature with friends and family. The NFLPA and its members also place great importance on volunteerism and community service, according to Nolan Harrison, former NFL player and current Senior Director of Former Player Services. With the USA's mission to unite the union community for conservation and its unique environment of fellowship in the outdoors, the partnership is a natural pairing.
"We are always looking for ways to connect with our larger family of organized labor," said Smith. "Because so many of our players participate in hunting, fishing and other outdoor activities during the offseason, the USA became a natural way for us to get our players more involved in this union and with other union members outside the football world. With so many different unions with different goals, I believe we always have to focus on the things we have in common. When I look to the USA, I look to it as one of the ways we can focus on the core things that bind us together."
With some NFLPA members already in the USA's ranks, the opportunity to extend the involvement to all current and former players will go a long way in building excitement and participation in events and volunteer projects, plus it will certainly – to borrow a line from AFL-CIO President and USA Chairman Richard L. Trumka – add more muscle to the conservation movement.
"We are ecstatic to have the NFL Players Association join the USA as its newest governing affiliate," said USA Deputy Director Mike d'Oliveira. "They represent so many members who share a deep passion for our outdoor heritage, and we welcome them and their families with open arms to our growing team of hardworking sportsmen and women."
With the NFLPA's charter-level support, active and former NFL players can join the USA at no cost and are encouraged to participate in the organization's fundraising dinners, sporting clays shoots and volunteer conservation projects that improve public access to the outdoors, enhance wildlife habitats, restore America's parks and mentor youth to be responsible stewards of our wild spaces.
About the NFL Players Association:
The National Football League Players Association is the union for professional football players in the National Football League. Established in 1956, the NFLPA has a long history of assuring proper recognition and representation of players' interests. The NFLPA has shown that it will do whatever is necessary to assure that the rights of players are protected—including ceasing to be a union, if necessary, as it did in 1989. In 1993, the NFLPA again was officially recognized as the union representing the players, and negotiated a landmark Collective Bargaining Agreement with the NFL.
The current CBA will govern the sport through 2020. Learn more at www.nflpa.com.
About the Union Sportsmen's Alliance:
The Union Sportsmen's Alliance (USA) is a union-dedicated, 501(c)(3) nonprofit organization whose members hunt, fish, shoot and volunteer their skills for conservation. The USA is uniting the union community through conservation to preserve North America's outdoor heritage.
For more information, visit www.unionsportsmen.org or connect on Facebook, Twitter and Instagram.