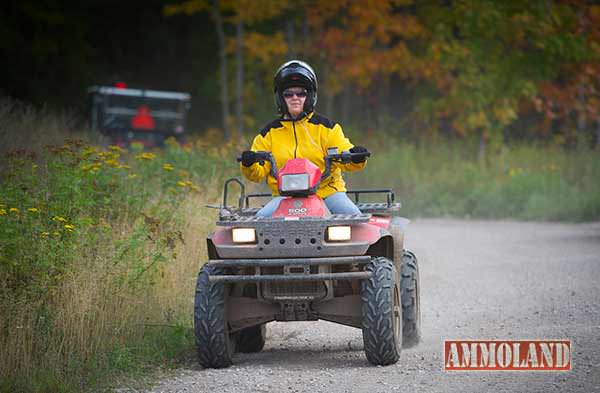 Michigan -(Ammoland.com)- With summer now in full swing, conservation officers at the Michigan Department of Natural Resources remind off-road vehicle riders to follow ORV safety rules and land-use regulations, riding only where ORVs legally are permitted.
"To ensure everyone's safety and the protection of our natural resources, ORV riders are cautioned to only ride their machines where it's legal to operate them," said Cpl. John Morey, DNR ORV and snowmobile coordinator. "ORV restrictions are in place to protect Michigan's natural resources and minimize user conflict with other outdoor recreation enthusiasts."
ORV Trail System
It is illegal to operate an ORV on public lands in the Lower Peninsula unless they are operating on the DNR designated ORV trail system. Michigan's ORV trail system has three basic types of trails, including:
Motorcycle-only trails maintained at a 28-inch width
50-inch-wide trails open to ORVs that are 50 inches wide or less
ORV routes maintained at a width of 72 inches
ORV use on designated trails is limited depending on the type of designated ORV trail and the ORV width. Off-trail or off-route ORV operation outside of a designated trail is prohibited, except for licensed hunters removing deer, bear or elk and operating an ORV at speeds of 5 miles per hour or less and traveling to the harvested game using the shortest possible route. Big game ORV retrieval provisions do not apply to the Pigeon River Country State Forest or to state game areas and national forests.
In the Lower Peninsula, the ORV trail/route system is the only legal place to ride non-Secretary of State-licensed ORVs on public lands other than frozen waters. In the Upper Peninsula, it is legal for ORVs to operate on state forest roads as well as the designated trail system, unless a specific state forest road is posted closed to ORV use.
Snowmobile Trails
Snowmobile trails normally are not designated ORV trails/routes, making them illegal for ORV operation.
Snowmobile trails are indicated by numbered "diamond shape" markers. To view images of ORV trail markers, see page 50 of the Handbook of Michigan Off-Road Vehicle Laws. This handbook alsois available at any DNR Customer Service Center.
State Parks and National Forests
ORVs generally are prohibited on state game areas or state parks and recreation areas.
In all national forests, motor vehicles can be used only on roads, trails or areas that are designated as open on motor vehicle use maps. For more information, contact the local national forest headquarters.
Public Roads
Roads, streets and highways maintained for year-round automobile travel (including the shoulder and the right-of-way) are closed to ORV operation unless designated open to ORV use by local ordinance. ORV operators should check with that county's sheriff, road commission or clerk for local ordinances.
It is illegal to operate ORVs on state and federal highways, including the shoulders and rights of way.
Private Land
Private land is closed to ORV operation except by the landowner and the landowner's invited guests.
Caring for the Environment
An ORV may not be operated in a manner that creates an erosive condition. Michigan's soils and shorelines are fragile, and ORV operation in these areas and along stream banks and other waterways is prohibited. It is unlawful to operate any ORV in or on the waters of any stream, river, marsh, bog, wetland or quagmire.
For more information about ORV regulations and safe operation, see the Handbook of Michigan Off-Road Vehicle Laws. Maps of state-designated ORV trails also can be found there.
To report a natural resource violation, please call the Report All Poaching hotline at 800-292-7800. Learn more at www.michigan.gov/rap.
Michigan conservation officers are fully commissioned state peace officers who provide natural resources protection, ensure recreational safety and protect citizens by providing general law enforcement duties and lifesaving operations in the communities they serve. To learn more about the work of conservation officers, visit www.michigan.gov/conservationofficer.