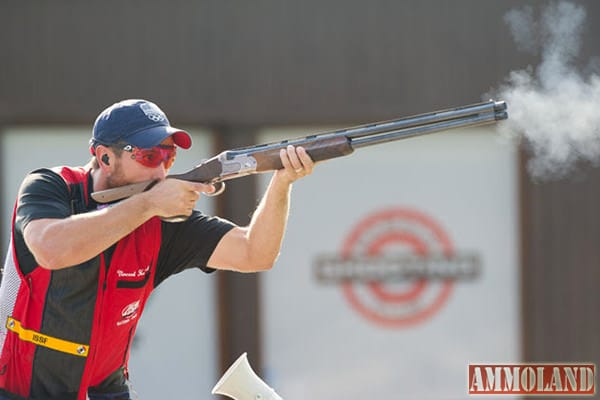 Olney, Maryland-(Ammoland.com)- In his quest for a third-straight Olympic gold medal later this summer, Vincent Hancock recently proved that he's on track for just that after securing a skeet bronze medal in the final tune-up for Rio during the International Shooting Sport Federation (ISSF) World Cup in San Marino.
Also on display was just how difficult the quest will be given the competition and the likelihood that near perfect results will be the only guarantee.  A perfect qualification round was recorded by Italy's Tammaro Cassandro, the fifth such perfect round since 2014 including one by Hancock in March 2015.
Despite shooting 125/125 in Qualification, it wasn't Cassandro finishing on top of the podium.
That distinction went to Sweden's Steffan Nilsson after a shoot-off with Cassandro in the gold-medal match.  Nilsson had gold locked up on the last station before the shoot-off before dropping two of his last four targets.  He rebounded in time to defeat Cassandro after six overtime targets.
In earning his 16th World Cup medal, Hancock faced Denmark's Jesper Hansen. Like Cassandro and Nilsson in the semifinal match, Hansen had a perfect 16/16 in the semifinals but would lose a shoot-off, 4-3, that forced him into the bronze-medal matchup with Hancock. Two misses in his first five targets would seal Hansen's fate with Hancock's perfect run. A medal was in doubt for Hancock all the way up to the final station of the Semifinal round after a dropped target on his second pair. Facing a fifth-place finish, he advanced after Italy's Gabriele Rossetti missed two of his last three targets. Hancock had advanced to the medal matches courtesy of his 123/125 in Qualification.
Hancock's running-mate in Rio, Frank Thompson (Alliance, Nebraska), shot a 116 to finish 44th.  The U.S. finished with three medals overall in San Marino with Josh Richmond (U.S. Army Marksmanship Unit/Hillsgrove, Pennsylvania) earning a silver medal in double trap and Corey Cogdell-Unrein (Eagle River, Alaska) taking home a bronze medal in trap.
2016 ISSF World Cup San Marino Results
Winchester Ammunition is a Proud Sponsor of the USA Shooting Shotgun Team: Winchester® Ammunition has been the exclusive ammunition sponsor and supplier of the USA Shooting Shotgun Team since 1999. Members of the past two shotgun teams brought home a combined six medals from London and Beijing using Winchester AA International Target loads. Winchester is an industry leader in advancing and supporting conservation, hunter education and our country's proud shooting sports heritage. For more information about Winchester and its complete line of products, visit winchester.com.