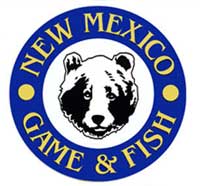 SANTA FE –-(Ammoland.com)- Six New Mexico Department of Game and Fish game wardens graduated from the Southeastern New Mexico Law Enforcement Academy in Hobbs Wednesday.
"This team of new officers have accomplished something special, something the entire department is proud of," Department Director Alexandra Sandoval said. "Each officer demonstrated the high standard of professionalism, integrity and honor that defines a New Mexico Conservation Officer."
The department's graduates of the 16-week law enforcement training academy are:
David Davis
Carla Jo Ehlinger
Justin Heppler
Jacob Lobato
Tyler Twitchell
Tuff Wimberly
Two officers from this year's graduating class had noteworthy accomplishments.
David Davis graduated at the top of his class of 21 by scoring a total of 96.6 out of 100 in four categories; firearms, driving, physical fitness and academics.
During her training Carla Jo Ehlinger broke a school record for performing 109 pushups and 12 pullups to beat the previous female record of 70 pushups and 7 pullups, confirmed Angela Byrd, Director of the Southeastern New Mexico Law Enforcement Academy in Hobbs. The men's record for pushups is 151 and 27 pullups.
In addition to the attending the law enforcement academy, conservation officers, also known as game wardens, undergo four weeks of departmental training in wildlife laws and department policies and procedures. They also undergo many months of on-the-job training under the supervision of a field training officer before being assigned to a district.
For more information about a career as a conservation officer with the Department of Game and Fish please visit www.wildlife.state.nm.us.