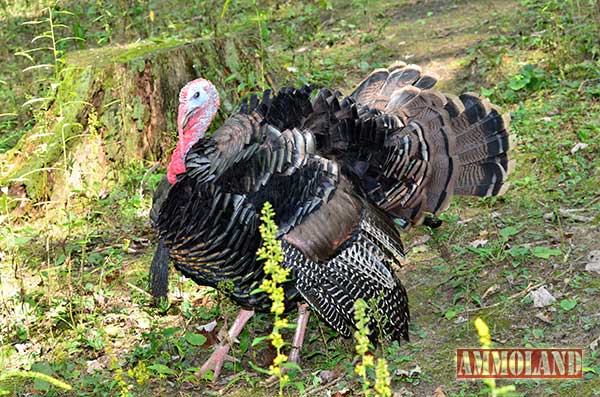 Pierre, SD -(Ammoland.com)- The South Dakota Game, Fish and Parks (GFP) Commission proposed to dissolve the West River prairie unit and offer 105 fewer one-tag licenses for the 2016 fall turkey hunting season.
Dissolving the West River unit would lead to an alignment of fall units with spring unit boundaries where licenses will be allocated. For the fall 2016 season, this will include Unit 30A (Gregory County); Unit 50A (Mellette County) and Unit 53A (Perkins County and the portion of Meade County north of US Hwy. 212).
The proposed season would run from Nov. 1, 2016 – Jan. 31, 2017, and offer 400 resident and 32 nonresident Black Hills any turkey  licenses and for the remainder of open units across the state 1,230 single tag any turkey and 50 two-tag licenses for residents along with 28 single tag any turkey licenses for nonresidents.
The proposal would also rename the current unit NE1 to 48A and will include portions of Marshall County south and east of SD Highway 25 and north of SD Highway 10 as well as Roberts County north of SD Highway 10.  In addition, the Davison and Hanson county unit would be modified to include only that portion adjacent to the city of Mitchell.
The Commission will finalize this proposal at their July 7-8, 2016, meeting at the RedRossa Convention Room in Pierre. Written comments can be sent to [email protected]. To be part of the official public record, comments must be received by 12 p.m. on July 7. Please include your full name along with the city and state of residence.
If you would like to comment in person, the public hearing will be held July 7, at 2 p.m. CDT at the RedRossa Convention Room in Pierre.
About The South Dakota Game, Fish and Parks (SDGFP):
The purpose of the Department of Game, Fish and Parks is to perpetuate, conserve, manage, protect, and enhance South Dakota's wildlife resources, parks, and outdoor recreational opportunities for the use, benefit, and enjoyment of the people of this state and its visitors, and to give the highest priority to the welfare of this state's wildlife and parks, and their environment, in planning and decisions.
For more information, visit: gfp.sd.gov.