By Mike Searson
A short n sweet look at Spyderco Knives most popular custom knife collaborations.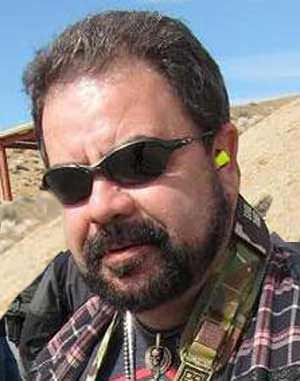 USA –  -(Ammoland.com)- One of the most influential cutlery companies in the world is Spyderco of Golden, Colorado ( www.spyderco.com ).
Not only did CEO Sal Glesser develop the three key components of a tactical knife (belt clip, one hand opening and serrations) back when folders were most often carried loose in the pocket or in a sheath; but Sal has mastered the art of collaborating with custom knife makers and has done so from the start.
We took a look at three of Spyderco 's higher end designs based on knives made by top tier knife makers and found them all to be excellent performers.
Spyderco Burch Chubby Knife
From the fertile mind of custom Knifemaker, Michael Burch, comes a short and stout folding knife called Spyderco Burch Chubby knife. True to a custom Burch design, the knife almost looks as if it leapt off Michael's table. The blade is made from CPM S30V, the handles are Titanium and the non locking side features carbon fiber inserts.
The appeal of this knife is in the looks department and if you have been after a custom Burch for a while, you can walk into this one by far less than his table price if you find him at a knife show.
We carried this model for a month or so and it accomplished everything we threw at it from cardboard boxes to filleting strips of extra rare beef. It has a short blade, but it can handle the tasks of a much longer one.
5.96″ overall length
3.66″ closed length
2.3″ blade length
Spyderco Rubicon Knife
Spyderco took a similar route with a design from Peter Carey. This model known as the Spyderco Rubicon Knife. Like Burch, Carey's handmade knives are nothing short of perfection and this Spyderco model makes use of the same quality materials like S30V in the blade, Titanium liners and carbon fiber scales.
The Rubicon features Carey's smooth as silk flipper action and is made with a distinctive G10 back spacer in orange.
A little pricey for a factory knife, we have to hand it to Spyderco for really pulling out all the stops with this one. It feels like a handmade knife and like Michael Burch, Carey's custom knife prices are up there.
7.4″ overall length
4.36″ closed length
3.04″ blade length
Spyderco Slysz Bowie
Last, but not least is a design by Polish knife maker Marcin Slysz, called the Spyderco Slysz Bowie Knife. Handles are a titanium frame lock and the blade is CTS-XHP.
Perhaps the coolest innovation is the wire style pocket clip. Some knife makers and their custom collaborators like to throw a lot of art and bling into their pocket clips as it's usually the most visible part of a knife and often sparks conversations when two knife nuts spot each other.
The wire clip blends in and disguises the fact that you are carrying a knife. This little bit of discretion is actually a good thing.
This is a true work horse of a knife and we were pleasantly surprised by the cutting ability of the flat ground blade. We actually put it to use slicing garlic the way Paulie did in Goodfella's and the results were phenomenal.
7.79″ overall length
4.37" closed length
3.42″ blade length
All three of these models use Spyderco's distinctive hole in the blade for one-handed opening. This patented and trademarked design symbolizes Spyderco and the important contributions they made to the cutlery industry.
We like higher end factory knives like these for every day carry, because there is nothing worse than losing a $1000 custom piece and the lower end knives don't really do it for us.
If you find yourself in the same boat, look into one of these custom collaborations from Spyderco.
About Mike Searson
Mike Searson's career as a shooter began as a Marine Rifleman at age 17. He has worked in the firearms industry his entire adult life as a Gunsmith, Ballistician, Consultant, Salesman, Author and was first certified to teach firearms safety in 1989.
Mike has written over 2000 articles for a number of magazines, websites and newsletters including Blade, RECOIL, OFF-GRID, Tactical Officer, SWAT, Tactical World, Gun Digest, Examiner.com and the US Concealed Carry Association as well as AmmoLand Shooting Sports News.
Home page: www.mikesearson.com
FB: www.facebook.com/mike.searson
TWITTER: www.twitter.com/mikesearson