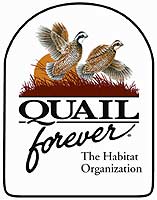 Houston, TX -(Ammoland.com)- Quail hunters and conservationists in the Gulf Coast Prairie of Texas have added a new chapter of Quail Forever in Waller, Fort Bend, and western Harris counties.
Officially known as the Brazos River Prairie Chapter of Quail Forever, volunteers are focusing on habitat improvements and conservation education to create positive impacts for bobwhite quail and other wildlife in the Greater Houston region, focusing primarily on the Brazos River prairie ecosystem.
"Our chapter has a goal of restoring bobwhite abundance within the lower Brazos River prairie region, an area that once boasted huge coveys of bobwhite quail and other wildlife," stated Mark Woodson, elected president of the Brazos River Prairie Chapter of Quail Forever.

To accomplish this goal, the chapter has pointed to partnership opportunities with other organizations – including the Wildlife Habitat Federation, South Texas Bobwhite Brigade, Texas Parks & Wildlife Department, and other local non-profits – as a means of working together for the future of bobwhite quail and upland habitat in Texas.
Thanks to much-needed precipitation throughout the state, most regions of Texas saw a quail population boom for the 2015-2016 hunting season. In the Gulf Prairies and Marshes region specifically, state biologists reported a slight decrease in quail abundance (flooding related) compared to the previous year, but the average number of bobwhites observed per route was still well-above the historical average for the region. With this in mind, the Brazos River Prairie Chapter of Quail Forever has formed at a time when increased awareness for bobwhite quail in Texas has formed positive momentum for wildlife habitat conservation.
Through a recently signed Memorandum of Understanding with the Texas Parks and Wildlife Department – a partnership to properly develop, enhance, and manage for bobwhite quail on both public and private lands – the Brazos River Prairie Chapter of Quail Forever hopes to work closely with state agency biologists and other partners on habitat projects to help quail populations continue trending in a positive direction.
Brazos River Prairie Chapter of Quail Forever
The Brazos River Prairie Chapter of Quail Forever has elected Mark Woodson of Katy as president, Joel Sprague of Wallis as vice president, Deborah Copeland of Cypress as treasurer, Scott Bosard of Humble as habitat chair, and Steve Copeland of Cypress as youth/education coordinator. For more information about the chapter or to become involved, contact chapter president, Mark Woodson, at (817) 522-8586 or [email protected]
The chapter will hold its next meeting on Thursday, June 30, at 6:30 p.m. at Landry's Seafood House (22215 Katy Freeway – Katy, TX 77450). Hunters and conservationists interested in joining the chapter as volunteers are encouraged to attend – please RSVP with Mark Woodson.
Texas is home to nine chapters of Quail Forever, and over 1,800 members of "The Habitat Organization." For more information about Quail Forever in Texas, contact Laura McIver at (907) 750-2600 or email.
About Quail Forever:
Pheasants Forever, including its quail conservation division, Quail Forever, is the nation's largest nonprofit organization dedicated to upland habitat conservation. Pheasants Forever and Quail Forever have more than 149,000 members and 700 local chapters across the United States and Canada. Chapters are empowered to determine how 100 percent of their locally raised conservation funds are spent; the only national conservation organization that operates through this truly grassroots structure. Since creation in 1982, Pheasants Forever has spent $634 million on 502,000 habitat projects benefiting 14.1 million acres nationwide.