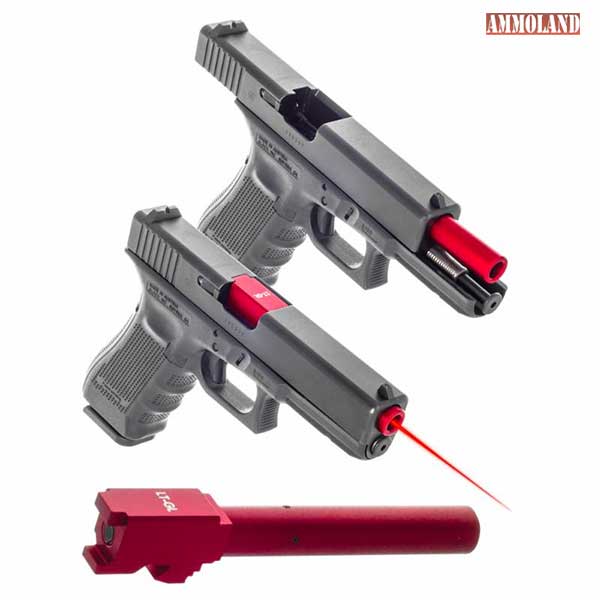 COTTONWOOD, AZ— -(Ammoland.com)- LaserLyte, innovators in firearms laser technologies, proudly introduces the world's first Laser Trainer Barrel for GLOCK 17 and 22 pistols. The new replacement barrel shoots a laser dot that simulates bullet impact, providing the shooter with immediate feedback. The laser is also fully compatible with LaserLyte's entire lineup of Trainer Targets, giving shooters exciting dry-fire practice with their own personal firearms!
Replacing the factory barrel, the laser trainer cannot accept live ammunition, making it a perfect choice for fun and safe at-home pistol practice! The bright red color also gives a visual cue to other persons in the area that the GLOCK 17 or 22 is unloaded and in a safe condition. A built-in snap cap also protects the firing pin from repeated dry firing.The LaserLyte Laser Trainer Barrel fires a sound-activated laser when the user pulls the trigger. Immediate laser feedback allows shooters to gain confidence and muscle memory without the added cost of expensive ammunition. LaserLyte continues to get shooters on target faster, increasing accuracy and overall hits with affordable and fun laser training tools.
LaserLyte LT-GL Specifications:
Compatible Firearms: GLOCK 17/22
Power Output: 650NM, 5MW, Class IIIA
Activation: Sound activated by striker firing
Batteries: 3 x 393
Battery Life: 10,000 shots
Weight: 1.8 ounces
Material: Aircraft Grade 6061 aluminum
Length: 4.48 inches
Width: 0.60 inches
Height: 1.00 inches
MSRP: $159.95
Download Hi-Res Images, logos, instructions, spec. sheets
About LaserLyte
LaserLyte, the leader in laser technology for over 26 years. Our mission is to heighten the experience of shooting. Now LaserLyte offers a 3-year warranty for all products sold new, including products sold new up to three years ago. For additional information about LaserLyte, visit www.laserlyte.com. Keep up to date with LaserLyte on Facebook, Instagram and visit our YouTube page for all the LaserLyte action.