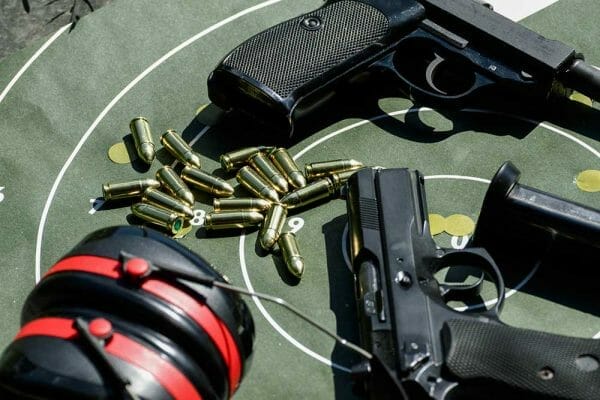 USA – -(AmmoLand.com)- What firearms training schools are worth your time?
When it comes to firearms proficiency, sending rounds down range isn't always the best method of training. While every bullet is another opportunity to perfect your technique, having an actual training plan is preferred. What better way to do that than attend a firearms training school?
There are dozens of schools around the United States that offer firearms training. So how do you know where to go to get the best training for your gun of choice? We've compiled a list of the four top-rated firearms training schools in the country to help you make that decision.
Gunsite Academy
Originally known as the American Pistol Institute, Gunsite Academy delivers the quality of education you'd expect from a name like that. Located in northern Arizona, Gunsite also offers offsite classes in Virginia, Tennessee, Indiana and Washington.
The changing Pistol Clip. Outdoor Shooting Range
Gunsite focuses on Combat Triad, which incorporates marksmanship, gun-handling and mind-set to form a complete training experience that will leave you confident in your abilities and practiced in your skills.
Courses are offered to military personnel, law enforcement and citizens of the U.S. who meet the minimum criteria. Students are required to supply their own firearms and magazines for the training, as well a flashlight with pressure switch and their own safety equipment.
The instructors are former military, law enforcement or both, and are well versed in the techniques taught. Various levels of handgun, carbine, shotgun, bolt action rifle and precision rifle are drilled and coached with a different focus per class. Gunsite also offers specialized courses, like Foreign Weapons Training and Disaster Preparedness Tactics.
Their highly recommended 250 Pistol Class costs $1,650 for five days of packed training, with prices generally rising from there for other levels.
Universal Shooting Academy
Well known for their national and international matches and training, Universal Shooting Academy is prepared to meet your needs.
The school will tailor the training to your focus, whether it's for your next competition, to better your skills for work or to become more confident in your firearms use. With 25 acres of range in central Florida, there is ample room to learn the ins and outs of your weapon.
Closeup of a man in shooting position on shooting range
The trainers are experts, and have either participated as a world class competitive shooter or served in special operations community. The two-day Basic Practical Pistol Course costs $450 and runs the students through nearly 2,000 rounds during seven hours of instruction per day, leaving you more than confident in your abilities.
Rogers Shooting School
Located in Georgia, Rogers Shooting School is prepared to bring you training based off experience, and they bring it well. From the engagement of small targets, exposed for a half second, to reactive targets that require multiple hits to drop, you'll get loads of value from a course here.
Instructors at Rogers Shooting School are well versed in more than 50 programmed drills that hammer the fundamentals of firearms application. With backgrounds in law enforcement and special operations, many of the trainers only instruct in their off time, still serving as SWAT commanders and officers.
Levels of training range from beginner to advanced. For individuals, courses are limited to Basic Handgun or Intermediate/Advanced Handgun. For groups, the focus extends passed the pistol to shotguns, submachine guns and carbines. The group courses can be modified in order to meet specific requirements or training goals, making them versatile for any discipline of arms.
Rogers prices don't change between individuals and groups. Special operations, SWAT and other teams requiring special skills will pay the same. The handgun course costs $12,000 and includes fees for 10 students, bringing it to $1,200 a head.
Instructor with man aiming machine gun at firing range
Academi
Academi, formerly known as Blackwater, offers excellent training in all facets of firearms skills. The focus here is scenario-based training with the goal of making these lessons stand out in realistic ways.
Curricula are based off a five-phase plan, bringing you some of the best training money can buy. Plans are analyzed, designed and developed for maximum efficiency prior to their implementation.
Owning facilities in North Carolina, Connecticut and California, they can also provide a mobile training team that will come to you. Like the other schools, Academi hires law enforcement, special operations and military veterans to ensure you're getting training based off not only practicality, but experience.
The Handgun I course starts at $480, unless you're at the Connecticut facility, where it costs $330. The class runs for two days and uses 800 rounds.
---
About Cabela's Incorporated
Cabela's Incorporated, headquartered in Sidney, Nebraska, is a leading specialty retailer, and the world's largest direct marketer, of hunting, fishing, camping and related outdoor merchandise. Since the Company's founding in 1961, Cabela's® has grown to become one of the most well-known outdoor recreation brands in the world, and has long been recognized as the World's Foremost Outfitter®. Through Cabela's growing number of retail stores and its well-established direct business, it offers a wide and distinctive selection of high-quality outdoor products at competitive prices while providing superior customer service. Cabela's also issues the Cabela's CLUB® Visa credit card, which serves as its primary customer loyalty rewards program. Cabela's stock is traded on the New York Stock Exchange under the symbol "CAB".