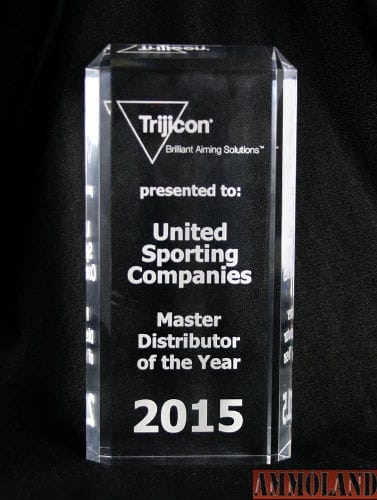 Chapin, SC -(AmmoLand.com)- United Sporting Companies is pleased to announce that it has been selected by Trijicon, Inc. to receive the Master Distributor of the Year Award for its 2015 efforts.
"It's an honor to team up with and be recognized by Trijicon, a company whose honest values guide its endeavor to truly build long term relationships while providing dependable, high-quality, cutting-edge sighting systems to law enforcement and military personnel, lifelong hunters, and intrigued shooting sports enthusiasts across the globe," stated Brad Johnson, USC Chairman and CEO.
Trijicon, Inc. has led the industry in the development of superior any-light aiming systems since the companies founding in 1981. Incorporating more than two decades of innovation,
Trijicon's riflescopes and sights are the most advanced aiming systems available today.
About United Sporting Companies (USC):
United Sporting Companies (USC) is a leading nationwide distributor of hunting, outdoor and marine products. The company operates through two subsidiaries, Ellett Brothers and Jerry's Sport Center which were founded in 1933 and 1949, respectively. Providing the Industry's largest product selection of over 85,000 SKUs in combination with the endless support of the most knowledgeable sales force in the country, USC proudly and efficiently serves over 30,000 independent retail customers across all 50 states through sales offices and distribution centers in Chapin, SC, Newberry, SC, Pittston, PA, Downingtown, PA, Dayton, OH, Spring Hill, KS, Dallas, TX, and Sacramento, CA.
For more information, visit: www.jerryssportscenter.com.