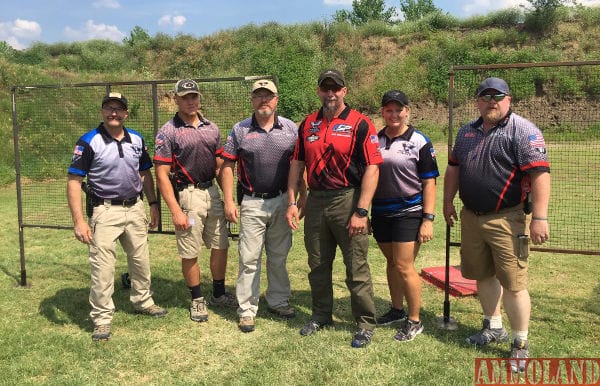 Berryville, AR -(AmmoLand.com)- Wilson Combat is excited to release the Shooting Team's results from the Stars and Stripes Regional IDPA Championship in Tulsa, Oklahoma.
Our team dominated this match, winning seven of the thirteen categories. Austin Proux secured the title of CDP Division Champion with a score of 209.08 (61), and 2nd place CDP Master and High Senior went to his dad, Walt Proux, with a score of 224.56 (50).
Mike Seeklander posted the best times and also achieved ESP Division Champion, High Industry, and Most Accurate with a score of 164.85 (37). Eric Fuson earned 1st place ESP Master, finishing with a score of 189.09 (50). Mandy Bachman added the titles of High Lady and 2nd Place Esp Expert to her awards with a score of 233.08 (70). Greg Martin, with a score of 192.98 (40), won the CCP Division.
This was a great match with solid stages and excellent skills tests, however the team agreed that the hardest stage was designed by fellow teammate, Eric Fuson.
Wilson Combat is proud of our talented team. We thank you for your encouragement of them as well!
Video: Mike Seeklander at the 2016 IDPA Stars and Stripes Championship
For more information about our shooting team, contact Guy Joubert at [email protected]
About Wilson Combat:
Since 1977 Wilson Combat has been the leading innovator in high-performance, custom 1911 handguns, tactical long guns and accessories. A Wilson Combat product's unmatched level of exceptional reliability and peerless craftsmanship is only equaled by our legendary customer service.
Learn more about us at http://www.wilsoncombat.com.