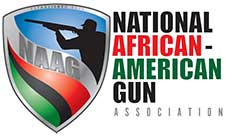 USA –-(Ammoland.com)- As one the fastest growing Civil Rights organizations focused on 2nd Amendment Rights for African Americans, National African American Gun Association (NAAG) would like to express support, love and prayers to the families of Philando Castile and Alton Sterling.
Both of these Americans were killed in the prime of their lives.
These senseless acts have struck a "raw nerve" in our community and have ignited discussions at dinner tables, Barbershops, and Churches across the Nation.
Additionally we want to recognize and pray for the heroic "Police Officers" and their families who were shot and killed in Dallas during a Peaceful protest.
We will continue to support and fight for the Rights of African Americans who want to have Firearms for personal defense as guaranteed in the 2nd Amendment.
Commentary by President of NAAG, Philip Smith……
To not talk about the issues of the past week as it relates to Gun Rights and Social justice would be irresponsible and against everything I believe in. The past week has been a very difficult one for our Country and especially for the African American Community. Typically the discussions in our monthly newsletter are light in nature and focused on the types of Guns, Conceal Carry options, members of the month, and general topics as it relates to firearms.
It is typically a lot of fun but this month I feel that we must side step our normal format and take a serious look and tone regarding the events that we all have seen.
African Americans just want to be respected and treated fairly. There needs to be a standard of behavior from all Law Enforcement Officers. Police asking questions in a calm and respectful manner goes a long way instead of jumping to conclusions and becoming overly aggressive based on stereotypes that have no connection to the actual reality or person you are speaking to. The names of unarmed Black men shot and killed in the USA is endless and a painful reminder to our community of a reality that we know all too well. The double standard that our community has endured for years has reached a "emotional line in the sand".
It has to stop now ……….
To be fair 99% of Law Enforcement do a honorable job of Protecting and Serving everyday in a job that is very difficult and often times not appreciated by the larger society….Officers put their lives on the line as the Dallas Officers did when the shooting started. They serve and Protect with honor…it is a tough job and everyone understands that. The Nation needs "Good Police"…….But that other hidden 1% within Law Enforcement is causing great harm toward the African American community…they cause beatings , shootings, excessive incarceration, and the killing of Black men. The automatic "Over reaction with Blacks compared to Whites in the same situation has to stop. We also want "the benefit of the doubt". Those officers not willing to comply need to be removed and identified by Law Enforcement Authorities and never be allowed to wear a "Badge" again…..If this can be done we will be taking a big step toward healing in our community and the beginning of building trust between Police and African Americans…
Quick Facts
"Over the past two years, blacks' views on Guns have changed dramatically. Currently, 54% of blacks say gun ownership does more to protect people than endanger personal safety, nearly double the percentage saying this in December 2012 (29%) "

"Final total of people killed by Police in 2015 show a Death rate of young black men is five times higher than white men of the same age"

"Only 10 of the 102 cases in 2015 where an unarmed black person was killed by police resulted in officer(s) being charged with a crime, and only 2 of these deaths (Matthew Ajibade and Eric Harris) resulted in convictions of officers involved. Only 1 of 2 officers convicted for their involvement in Matthew Ajibade's death received jail time. He was sentenced to 1 year in jail and allowed to serve this time exclusively on weekends. Deputy Bates, who killed Eric Harris, will be sentenced later"
About National African American Gun Association (NAAGA):
The goal of the National African American Gun Association is to have every african american introduced to firearm use for home protection, competitive shooting, and outdoor recreational activities. We are a civil rights organization focused on self preservation of our community through armed protection and community building. The National African American Gun Association provides a network for all african american firearm owners, gun clubs and outdoor enthusiasts. We welcome people of all religious, social, and racial perspectives. We especially welcome african american members of law enforcement and active/retired military.
For more information, visit: www.naaga.co.