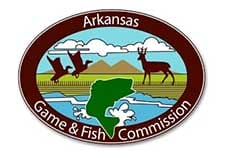 LONDON –-(Ammoland.com)- Biologists with the Arkansas Game and Fish Commission will be taking additional samples to search for chronic wasting disease in southern Pope County, Aug. 1-5.
The sampling is part of the AGFC's preparation for this hunting season's sampling period, according to Ralph Meeker, assistant deer program coordinator for the AGFC.
"In the coming deer season, we hope to gather 300 samples from hunter-harvested deer in each of the counties in our CWD Management Zone," Meeker said. "But the single positive case of CWD in Pope County came from an area that has very little land open to public hunting."
The CWD Management Zone consists of Boone, Carroll, Johnson, Logan, Madison, Marion, Newton, Pope, Searcy and Yell counties.
Brad Carner, chief of wildlife management for the AGFC, says the positive case in Pope County is about 40 miles from the first documented case of CWD in the state, and there is a very large gap between it and the other known positive cases found so far.
"We really want to sample near this outlier to determine the extent of CWD's spread in the area," Carner said. "We would rather take samples from voluntarily submitted hunter-harvested animals, but hunter access is not possible because of safety issues with surrounding land use."
Sampling is expected to occur for a few hours each morning and evening of the week, and samples will be processed close to the location of the previous positive case in Pope County.
This sampling effort is a small part of the overall collection process planned for this hunting season.
"We also will be working with hunters participating in the Russellville and Bull Shoals urban archery hunts to collect hunter-harvested samples to reach our goal of 300 deer in each county of the CWD Management Zone," Carner said. "We still want Arkansans to enjoy deer hunting, and we need their help in monitoring for this disease and helping stop its spread. We will be opening up biological testing sites in the CWD Management Zone on opening weekend of modern gun deer season to help reach our goal of 300 deer tested in each of those 10 counties."
Carner says testing site locations will be released to the public once staff has finalized the list.