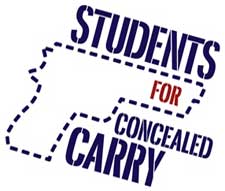 Austin, TX -(AmmoLand.com)- Since the earliest days of the nearly decade-long debate over allowing concealed carry on Texas college campuses, opponents of the idea have clung to the mistaken belief that the debate is about whether a campus with guns is more or less safe than a campus without guns.
They apparently find it easier to wrap their heads around the simple dichotomy of 'guns versus no guns' than to grasp the nuance of a debate about whether criminals should be the only ones carrying guns on campus or whether vetted, licensed adults should be allowed the same measure of personal protection on campus that they're already allowed virtually everywhere else.
Recently, this simplistic 'guns versus no guns' view has manifested itself in opponents' assertion that the confusion caused by protesters who were openly carrying rifles when a sniper attacked a Black Lives Matter protest in Dallas proves the dangers of campus carry. In a July 25 column in The Tribune of Humble, Tex., Dave McNeely writes:
Some of the people marching in the Black Lives Matter rally in Dallas July 8 — when five cops were killed and seven others were injured, plus two civilians — were carrying assault rifles.
Suspecting that the gun-toters might be involved in the ambush on the cops, a picture of one of them was put up by the police on social media, to help track him down. It gained national attention.
Fortunately, he and the other gun-toting marchers weren't taken out by law enforcement.
So, now, allowing more guns on campus. Will it help prevent violence, or help subdue it if it occurs?
In an interview published July 22 on the blog CultureMap Austin, bestselling author Elizabeth Crook, whose 2014 novel Monday, Monday depicts a fictionalized account of the August 1, 1966, sniper attack at the University of Texas at Austin, states, "As for campus carry, I absolutely do not think it will deter random acts of violence, I think it's pretty certain to create them. We saw during the recent horrendous shooting of police in Dallas how armed civilians endangered themselves, confused police, and were of course utterly ineffective in stopping the sniper."
To these people it makes no difference that the armed citizens who caused confusion for Dallas police were carrying rifles, not handguns; that the guns were carried openly, not concealed; that the guns—at least some of which were purportedly unloaded—were carried as a form of protest, not as a measure of self-defense; that proponents of campus carry have never claimed that the licensed, concealed carry of handguns offers defense against a sniper firing from a concealed position; that concealed carry is about personal protection, not public protection; or that Texas license to carry (LTC) holders are taught to move away from the sound of gunfire and stay out of the way of police.
As is the case with opponents who point to the 1966 University of Texas sniper attack as evidence that campus carry is a bad idea, those who point to the July 7 sniper attack on Dallas police understand neither the facts of the referenced crime nor the real arguments behind campus carry.
Antonia Okafor, Southwest regional director for Students for Concealed Carry, commented, "Only after opponents realize that the campus carry debate isn't as simple as 'guns versus no guns' will we, as a society, be able to have an intellectual, fact-based conversation about this deeply nuanced issue."
About Students for Concealed Carry:
Students for Concealed Carry (SCC) is a national, non-partisan, grassroots organization comprising college students, faculty, staff, and concerned citizens who believe that holders of state-issued concealed handgun licenses should be allowed the same measure of personal protection on college campuses that current laws afford them virtually everywhere else. SCC is not affiliated with the NRA or any other organization. For more information on the debate over campus carry in Texas, visit WhyCampusCarry.com.
For more information on SCC, visit ConcealedCampus.org orFacebook.com/ConcealedCampus.