(AmmoLand.com) DEFENDER MOSSY OAK HUNTING EDITION HD10
The all-new Defender Mossy Oak Hunting Edition side-by-side vehicle has been purpose built with factory-installed extras to appease the needs of modern hunters and outdoorsmen. Dressed with its exclusive water-dipped Mossy Oak Break-Up Country camo finish, the Mossy Oak Hunting Edition HD10 package is the direct result of joint effort from Can-Am and Mossy Oak Pro Staff. It starts with the regular Defender XT package items, yet receives its own unique functional, protective and rider-focused amenities to appeal to hunters. Essentials include Double Kolpin Stronghold gun boots, tool holders, Headache Rack with LinQ quick-attach system, half windshield, full hard roof, left-side mirror, unique wheels and more.
FUNCTION
Double Kolpin Stronghold gun boots The Double Kolpin Stronghold Gun Boots features the largest holding capacity of all Kolpin Gun Boot cases while the removable foam and nylon Impact liner ensure a superior interior protection. Easily fits firearms up to 52" in total length with room for optics and bipods. Secures to mount in seconds with auto-latch feature. The holders are durable, flexible grips and cushion padded to protect while providing a custom fit for a variety of items 1″ to 4″ (2.5 cm to 10 cm).
 Headache rack
The durable heavy-gauge steel Can-Am Headache Rack protects cab components from the cargo load and also serves as a mounting location for the gun boots (using a Gear Rail and LinQ Tool Holders). The Headache Rack has a dual protective anti-corrosion coating to resist scratching and prevent rust.
LinQ tool holders
Two ultra-versatile LinQ-compatible tool holders offer a convenient swivel-latch that allows tools to be secured in a variety of positions.
LED RAM spotlight
A LED high-intensity, heavy-duty RAM spotlight includes a 1-inch (2.5 cm) diameter rubber-coated double ball and socket system. It's LinQ compatible and plugs into a new 12V lighter-type DC outlet located behind the driver seat's pannel.
 Rotax V-Twin Engine
The Defender Mossy Oak Hunting Edition comes with the Rotax V-Twin HD10 engine. The 72-hp Rotax HD10 V-Twin is specifically tuned for serious work but also offers 61 lb-ft torque and peak torque at lower RPM for optimal delivery for recreational use. The V-Twin engine is located in the rear of the Defender chassis to reduce noise, vibration, cockpit heat and improve access.
 PROTECTION
Half windshield
A high-impact-resistant durable polycarbonate half-windshield protects the driver and passenger from the elements. The windshield won't yellow, craze or crack and is designed for optical clarity. A reverse angle lip deflects airflow from reaching the cab. It features a quick, easy, no-tools install / removal.
Heavy-Duty front bumper
Featuring a heavy-duty steel-tube construction, the unique H-D front bumper adds protection to the front of the vehicle and is light-kit compatible. The bumper uses a dual protective anti-corrosion coating for added durability.
Full hard roof
A durable, heavy-duty plastic roof protects the occupants from elements while giving the Defender Mossy Oak Hunting Edition a custom appearance.
Full under body skid plate with front aluminum pre-runner skid plate
The high-strength full skid plate is made from proven materials and ensures the underside of Defender Mossy Oak Hunting Edition side-by-side vehicle is protected from hidden obstacles while out in the field. The stylish front aluminum pre-runner skid plate adds more functional protection.
RIDER-FOCUSED AMENITIES
Left-side mirror
A mirror on left side of the Defender vehicle aids the driver in maneuvering the side-by-side.
14-inch black wheels
Vehicle-specific black, 14-inch (35.6 cm) cast aluminum wheels complement the camo concealment finish.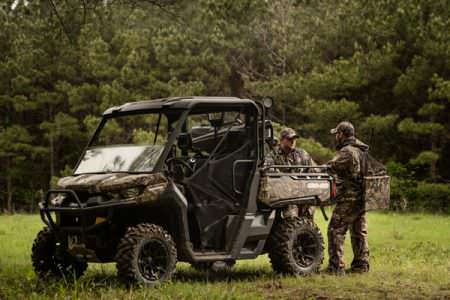 Mossy Oak Break-Up Country Camo
Mossy Oak is an industry leader in camouflage concealment, so it's no wonder the premium Defender Mossy Oak Hunting Edition HD10 wears its innovative Break-Up Country camo. The highly durable water-dipped camo finish, exclusive to Can-Am, is more resistant to scratching, mineral deposits and sun fading. More importantly, it lets hunters match their favorite camo manufacturer with their favorite side-by-side vehicle brand.
About BRP
BRP (TSX:DOO) is a global leader in the design, development, manufacturing, distribution and marketing of powersports vehicles and propulsion systems. Its portfolio includes Ski-Doo and Lynx snowmobiles, Sea-Doo watercraft, Can-Am all-terrain and side-by-side vehicles, Can-Am Spyder roadsters, Evinrude and Rotax marine propulsion systems as well as Rotax engines for karts, motorcycles and recreational aircraft. BRP supports its line of products with a dedicated parts, accessories and clothing business. With annual sales of over CA$3.8 billion from over 100 countries, the Company employs approximately 7,900 people worldwide.
Ski-Doo, Lynx, Sea-Doo, Evinrude, Rotax, Can-Am, Spyder, Defender and the BRP logo are trademarks of Bombardier Recreational Products Inc. or its affiliates. All other trademarks are the property of their respective owners.
For information:
Andrew Howard
Media and Public Relations, Howard Communications, Inc.
Tel: 573-898-3422
For high-resolution BRP product images, please access the BRP Media Centre
and sign in with the following credentials:
Username: media.brp
Password: brpimages