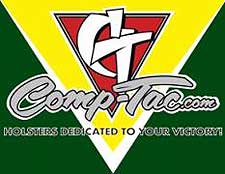 Houston, TX  -(AmmoLand.com)- Team Comp-Tac's Randi Rogers won High Lady Production Division in her own home state at the 2016 USPSA Texas State Open Championship this June 25-26 in Rosenburg, Texas.
Rogers finished High Lady Production, 13th Overall in the Production division and 3rd Master with a final point total of 915.2925.
"The Texas State Open offered one of the most diverse stage combinations I have seen in a while. There were several stage lengths ranging from nine required rounds to 33. Every stage included steel and overall I really enjoyed the entire event," commented Rogers who in addition to being part of Comp-Tac's shooting team is the Sales and Marketing Manager for the company.
Fellow team Comp-Tac member Gordon Carrell finished Overall Production Champion. Comp-Tac also supported the TX State Open as a Stage sponsor.
"Texas is a unique location that brings together many shooters and firearms enthusiasts. It is a pleasure to support these different shooting events and meet more customers that have a wider variety of holster needs and uses," explained Gregg Garrett president and owner of Comp-Tac.
Next up for Team Comp-Tac, Rogers and Carrell will be at the 2016 USPSA Production Nationals in Barry, IL, August 10th-14th.
For more information on Team Comp-Tac, and the full line of Comp-Tac Victory Gear holsters and accessories, visit www.Comp-Tac.com, like Comp-Tac on Facebook at www.facebook.com/CompTac, or follow @CompTac on Twitter.
About Comp-Tac Victory Gear, LLC:
Comp-Tac Victory Gear, LLC combines experience in personal protection and the tactical applications combined with the love of pistol shooting competitions into every product they develop. Comp-Tac strives to deliver high value, quality solutions and improvements at the best price.  With satisfaction a top priority, we ensure speed, quality and superior customer service to support your desire to take responsibility for personal safety, security and recreational firearm use.
For more information, visit: www.comp-tac.com.