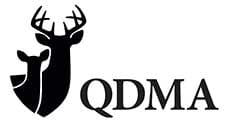 ATHENS, GA –-(Ammoland.com)- The Professional Outdoor Media Association (POMA) named Lindsay Thomas Jr., Director of Communications for QDMA, as the winner of the 2016 Pinnacle Award in the Conservation category for his article "10 Reasons You Don't Want CWD [chronic wasting disease] in Your Woods." The award was announced at POMA's 11th Annual Business Conference on June 18.
POMA's annual Pinnacle Awards, presented in partnership with Mossy Oak, honor journalists "for remarkable achievement in traditional outdoor sports-focused communications, including writing, photography/illustration, broadcasting as well as content focused on wildlife conservation."
"I wrote this article to help bring more attention to the serious threat posed by CWD to our deer hunting heritage, so I'm very pleased to see it earn recognition from POMA, which will help expose the article to more deer hunters," said Thomas. "I want to thank POMA and Mossy Oak for this honor, and especially for encouraging and supporting traditional outdoor journalism through the Pinnacle Awards."
Chronic wasting disease (CWD) is a fatal syndrome in deer and elk that has been found in wild white-tailed deer populations in 21 states and two Canadian provinces. Thomas's article, published in the August/September 2015 issue of QDMA's Quality Whitetails magazine, explored the actual impacts on deer hunters in outbreak zones so hunters who are not yet affected understand the importance of preventing further spread of the disease.
Thomas's article is available online at the QDMA website:
10 Reasons You Don't Want CWD in Your Woods
About QDMA
QDMA is dedicated to ensuring the future of white-tailed deer, wildlife habitat and our hunting heritage. Founded in 1988, QDMA is a national nonprofit wildlife conservation organization with more than 60,000 members in all 50 states and Canada. To learn more about QDMA and why it is the future of deer hunting, call 800-209-3337 or visit www.QDMA.com.