By John E. Phillips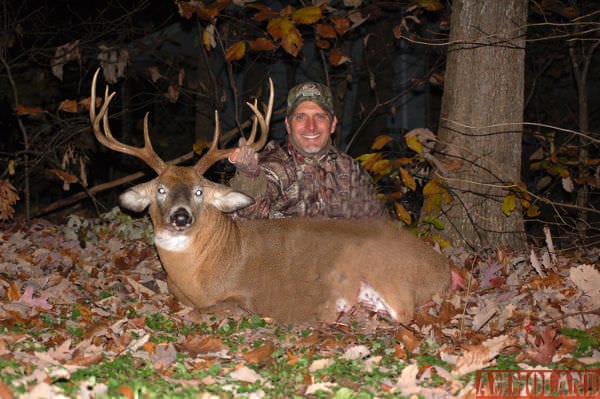 USA -(AmmoLand.com)- At any given time, I'll have 10- to 15-different pieces of property to hunt.
The properties I hunt primarily are small, from 8 to 400 acres. I put out Covert trail cameras (https://www.covertscoutingcameras.com) that run 24 hours a day, 7 days a week and 365 days a year, even on properties I've hunted for years.
From my cameras, I've learned where to put up my tree stands, when to put them up and when to move them, but I stay out of the areas I hunt as much as I can.
During hunting season, I may check my cameras every 3 days. The rest of the year I only check my cameras about every 3 weeks. I also use binoculars to observe deer during the summer, until just after crop fields have been harvested. I try to stay at least 300-yards away from the deer, and I make sure I remain upwind of them.
In the early season (September and October), I already have my tree stands hung based on trail-camera information and long-distance glassing. My stands are on trails between bedding areas and feeding places at this time of year. The bigger bucks on the properties I hunt don't like to move during daylight hours at the very beginning of bow season.
Another thing that I have learned is that really-big bucks want their bedding regions to be as close to the places where they feed as possible. Often older-age-class bucks will be bedded within 100 to 500 yards of a field, if they can find some kind of thick cover to bed in there. I try to take these older-age-class bucks in the first few minutes of light as they're coming from the field going to their bedding sites or hunt them late in the afternoon headed in the other direction. From the information I gather from my trail cameras, I can learn approximately at what time the bucks leave their feeding areas in the morning, and at what time they leave their bedding places late in the afternoon. If I'm hunting in urban communities without agricultural fields during the early season, the deer will be feeding on honeysuckle and a vine we call "sticky vine" that has pink flowers and berries on it.
During early bow season in September and October, bucks have the same problem hunters have: bugs. Bucks often will bed on the tops of hills or mountains for two reasons. Generally the air will be cooler the higher they move-up a mountain, plus there may be a slight breeze. Both of these conditions help to keep bugs off the deer. However, generally, does, for some reason, tend to bed in low areas where there are a lot of bugs.
How to Hunt and Take Big Buck Deer on Small Properties : http://tiny.cc/atx9cy

If you want to learn more about hunting big bucks on small properties check out "How to Hunt and Take Big Buck Deer on Small Properties", available in both eBook and print formats http://tiny.cc/atx9cy
About the Author:
For the past 40+ years, John E. Phillips of Vestavia, Alabama, has been a fulltime outdoor writer, traveling the world interviewing hunters, guides, outfitters and other outdoorsmen about how they hunt and fish. An award-winning author, John has been hunting and fishing since his kindergarten days.