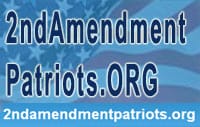 Indiana -(AmmoLand.com)- I hope that this letter will be forwarded to others. Margie and I are absolutely overwhelmed by all the support across the state and even some out of state I've received for seeking the nomination of candidacy for governor. Dear people we thank you all.
Last Thursday I completed the filing process in Indy. Tuesday we will be back in Indy and I should have the opportunity to stand before the nominating committee and make a three minute presentation.
I know that the other candidates were in Cleveland making the rounds with the committee members. I was here in Indiana. Margie and I did not make plans to go to Cleveland because I had commitments with constituents that were made weeks earlier. These were individuals and area facilities that had asked me to meet with them or attend their functions. These were obligations as a state senator that I had accepted and felt I should fulfill.
I believe that the race for governor has three objectives. First, someone who could win in the general election, second, a person who can govern and lastly, an individual who has the trust and faith from the citizens to be faithful to them. I know I qualify.
Margie and I will continue to pursue this effort to the end and I know that all of the fine people who have contacted us to express their support and ask how they can help will stay with us. If the nominating committee could hear the messages and read the letters that many of you sent us there is no way in good conscience they could refuse me the nomination.
Margie and I feel that there is Divine intervention in this goal, not just for us, but for our supporters. However, we do not know if what we see and think is what God sees and wills. Therefore, if the outcome is not what we want, we must understand that God's design is sometimes different than ours.
Again, thank you all for all the work in this and God bless you.
Jim and Margie
About Second Amendment Patriots:
The Second Amendment Patriots are a local group of Indiana citizens dedicated to preserving the rights, freedoms, and civil liberties of every American by educating the American public of the founding and history of this country and its founding fathers by explaining the role, functions and purpose of the U.S. Government; and by teaching the need and importance of an armed American public, in order to allow for a more prosperous and respectful country consisting of American citizens with a pledge of allegiance to their country and who will at the same time, voice their demand to take back the present overwhelming power of the U.S. Government and deliver it into the hands of the people to which it belongs.
For more information, visit: www.2ndAmendmentPatriots.org.