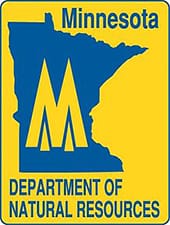 Minnesota –-(Ammoland.com)- Following a week of online voting, during which more than 30,000 votes were cast, Lt. Gov. Tina Smith today announced the winner of the contest to design a Minnesota state parks and trails license plate.
The winning plate features an image of a canoe on the water, surrounded by Minnesota's four seasons.
"Generations of Minnesotans have enjoyed our extraordinary state parks and trails system," Smith said. "This new license plate allows Minnesotans to invest in the future of our parks and trails, and proudly demonstrate that commitment on their vehicles."
The plate was submitted by Michelle Vesaas of Coon Rapids. Vesaas's design received the most votes from among three finalists.
"My design was inspired by being in the outdoors in this beautiful state through all four seasons," she said. "Even in the coldest days of winter, if you're dressed for it, there is incredible beauty to be found."
The new license plate will be available from the Department of Motor Vehicles this fall as part of the ongoing celebration of the 125th anniversary of Minnesota state parks and trails. The cost will start at $60, plus tax. The total includes a one-time $10 fee for the plate itself and a minimum $50 contribution (renewable annually).
"Purchasing the new license plate will be a great way to show everyone on the road that you 'go the extra mile' to support Minnesota state parks and trails," said Erika Rivers, DNR parks and trails director.
The plate provides their owners with unlimited access to all 75 Minnesota state parks and recreation areas for the year, replacing the need for an annual vehicle permit (a $25 value).
Proceeds from license plate sales will help fund the operations and maintenance of Minnesota state parks and trails.
The DNR already has eight Critical Habitat license plates from which Minnesotans can choose. These specialty plates—first offered in 1995—provide an opportunity for citizens to support conservation and show their individuality by purchasing a license plate featuring a loon, a moose or another Minnesota-related image. The parks and trails plate will bring the total number of specialty license plates available from the DNR to nine.
For more information, contact the DNR Information Center at [email protected], 651-296-6157 or 888-646-6367 between 8 a.m. and 4:30 p.m. Monday through Friday.