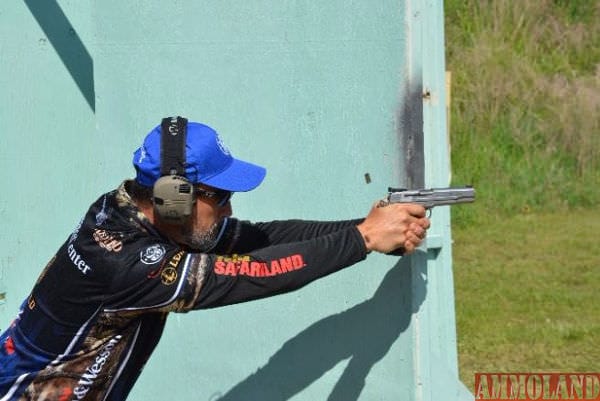 Hamburg, PA -(AmmoLand.com)- Doug Koenig Championship Season is now on Pursuit Channel, Friday nights at 10:00 pm EST as part of the NRA Freedom Friday lineup.
Doug and his son Zach travel to La Pampa Province in Argentina for a Red Deer Stag hunt. Zach will shoot his Thompson Center Venture Rifle in 300 Win Mag, while Doug will shoot his TC Pro Hunter Pistol in .308, both fueled with Hornady Superformance ammo and topped with Leupold scopes.
After several days spent stalking a particular herd, Zach makes a tight shot and drops his first Stag. Then, as Doug and his guide follow the sounds of the roaring Stags, he's able to close in for an 80 yard shot resulting in both father and son celebrating an awesome Argentina adventure. A lasting lifetime memory is in the books.
Then, back stateside, Doug travels to Barry, Illinois for the USPSA Production Nationals. A twenty stage, practical combat course of fire which includes a Dark House. Executing a different set of skills and mindset than what Doug traditionally shoots, his footwork and adrenaline kicks in with the variety of stages presented.
To preview tonight's Argentina show go to: https://vimeo.com/153232867.
2016 Doug Koenig's Championship Season: Just One Shot (Teaser) from X-Ring Productions LLC on Vimeo.
Doug Koenig's Championship Season can be viewed on Pursuit Channel:
Wednesday at 5:30 pm (Eastern)
Friday at 10:00 pm (Eastern Primetime)
Saturday at 1:30 pm (Eastern)
Follow Doug at https://www.facebook.com/DougKoenigChampion and watch the show stream live at: http://www.vidillion.tv/pursuitchannel/.
About Doug Koenig's Championship Season:
Doug Koenig's Championship Season returns to the Pursuit Channel. From remote hunting destinations to the firing line, join your host and world shooting champion Doug Koenig on his quest for the ultimate trophies. Championship Season features a gritty combination of fast-paced shooting competition and in your face hunting adventure. Whether it's bull elk, whitetails or competition shooting, one thing is certain…bullets will fly and it's gonna be a wild ride!
For more information, visit: www.PursuitChannel.com.