Hamburg, PA -(AmmoLand.com)- Be sure you're watching Doug Koenig's Championship Season on Pursuit Channel, Friday nights at 10:00 pm EST, as part of the NRA Freedom Friday lineup.
Doug heads to Columbia, MO a few days early to practice for the upcoming Bianchi Cup. Unexpectedly, the weather conditions shift, and competitors face unsettling cold temperatures, rain and changing winds unfit for the fainthearted, but where champions persevere and regroup.
In this episode filmed in 2015, the camera follows and captures the intensity of Doug shooting the Falling Plates and the Barricades; then the champion takes you to his personal range for a shooting tip. Return with Doug to the Green Valley Rifle and Pistol Club and witness him win his 16th Bianchi Cup, an unheralded feat.
Post Bianchi Cup celebration, Doug and his two sons set south to Ocala, Florida for Osceola Turkey, but the rains decide to follow and shake up their hunting plans. Will the guys be able to hold on and call in a Tom? You'll have to stay tuned.
Doug Koenig's Championship Season can be viewed on Pursuit Channel:
Wednesday at 5:30 pm (Eastern)
Friday at 10:00 pm (Eastern Primetime)
Saturday at 1:30 am (Eastern)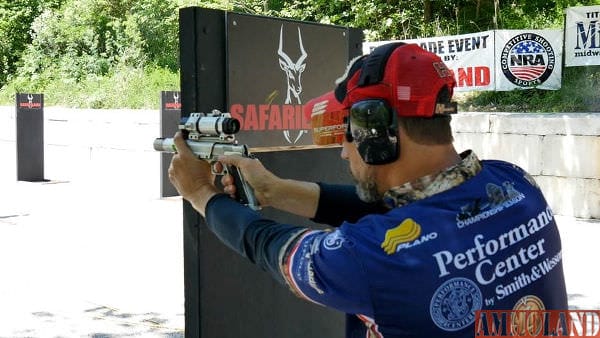 Follow Doug at https://www.facebook.com/DougKoenigChampion and @doug_koenig on Twitter. You can watch the show stream live at: http://www.vidillion.tv/pursuitchannel/.
About Doug Koenig's Championship Season:
Doug Koenig Championship Season returns to Pursuit Channel. From remote hunting destinations to the firing line, join your host and world shooting champion Doug Koenig on his quest for the ultimate trophies. Championship Season features a gritty combination of fast-paced shooting competition and in your face hunting adventure. Whether it's bull elk, whitetails or competition shooting, one thing is certain…bullets will fly and it's gonna be a wild ride!
For more information, visit: www.PursuitChannel.com.