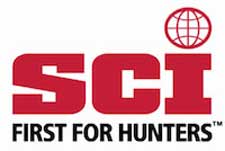 Tucson, AZ – -(Ammoland.com)-Safari Club International is proud to announce two important milestones on the organization's primary social media sites.
The Safari Club International Facebook page now has a fan base of more than 50,000 friends and the popular Hunt Forever blog has surpassed 2 million views.
Audiences for both sites were built from the ground up, relying on industry best practices and quality content to appeal to a varied and engaged fan base.
"It would have been very easy to simply buy numbers," said Steve Comus, Director of Publications for Safari Club International, "but we preferred to earn our followers. This results in a high quality communications vehicle that speaks to a high quality audience.  These are people who sought us out and chose to be a part of the SCI social media community," Comus stated.

"By providing content of importance to them, we appeal to those most sympathetic to the SCI mission and most dedicated to preserving our hunting heritage now and for future generations."
Safari Club International has seen similar growth in all digital platforms, including Twitter, and the Hunt Now! e-Newsletter. In allowing the time and interest in the SCI social media sites to grow organically, Safari Club International is focused on providing only the best for the best.
You can like SCI's Facebook page at www.facebook.com/safariclubinternational/ , visit the Hunt Forever blog at www.huntforever.org and subscribe to the Hunt Now! e-newsletter at http://member.scifirstforhunters.org/HuntNow/Subscribe/
Safari Club International – First For Hunters is the leader in protecting the freedom to hunt and in promoting wildlife conservation worldwide. SCI's approximately 200 Chapters represent all 50 of the United States as well as 106 other countries. SCI's proactive leadership in a host of cooperative wildlife conservation, outdoor education and humanitarian programs, with the SCI Foundation and other conservation groups, research institutions and government agencies, empowers sportsmen to be contributing community members and participants in sound wildlife management and conservation. Visit the home page www.SafariClub.org, or call (520) 620-1220 for more information.
International Headquarters Tucson, Arizona • Washington, District of Columbia • Ottawa, Canada or www.SafariClub.org