"Concealed Carry & Handgun Essentials for Personal Protection"
by Col Ben Findley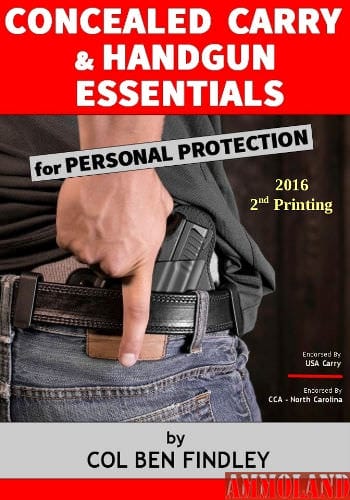 USA -(AmmoLand.com)- Col Ben's best-selling book, "Concealed Carry & Handgun Essentials for Personal Protection", is a COMPREHENSIVE AND THOROUGH GUIDE for those desiring to own or carry a handgun for personal protection.
Given the many recent attacks, threats, and violent events, this book will help you prepare for your SELF DEFENSE AND PERSONAL PROTECTION.
It is a very complete REFERENCE for BOTH BASIC AND ADVANCED ESSENTIALS of properly using and handling your firearm and understanding the critical situational issues and variables, but also a PRACTICAL guide to proper concealed carry of your handgun and its use in deadly-force encounters.
This book is designed for both NEW AND EXPERIENCED shooters to provide thorough and detailed information to help you with your self defense with a handgun and its 57 CHAPTERS, almost 300 pages, & 245 pictures present helpful TOPICS, for example:
Inside "Concealed Carry & Handgun Essentials for Personal Protection"
Overcoming 7 Common Concealed Carry & New Shooter Mistakes
A Concealed Carry Checklist with 12 Key Carry Guidelines
The 8 Fundamentals of Shooting, like proper sight alignment, grip, stance, trigger & recoil control, etc.
Legal issues, considerations, & guidelines for Self Defense & Deadly-Force encounters
Deciding if you should fire Warning Shots, Brandishing & Disparate Force issues, Stand Your Ground
Criteria for Selecting Your Gun to Purchase for Personal & Home Defense
Col Ben's Top 21 Concealed Carry Guns- Comparisons & Rankings
Best Technique for Racking Any Pistol Slide; Dealing with Handgun Malfunctions & Stoppages
13 Methods of Concealed Carry & the Proper Draw from Carry
Criteria for Selecting Your Holster; Criteria for Selecting Your Gun Belt
Handling Attacks by Dangerous Dogs
Traveling Safely & Legally with Handguns & Ammunition- Airlines Travel
Cleaning & Maintenance of Handguns: Key Lubrication Points
Practice Drills for Accuracy and Speed
In this book, Ben thoroughly and analytically examines many of the proven fundamentals, processes, techniques, and practical situations that a concealed carrier can expect to be faced with. It is certainly my hope that you find the techniques, guidelines and tips, and cutting-edge details in this book useful and informative, like I have, but most importantly, applicable. This book is written in an easy-to-read style and its concealed carry and handgun essentials are broad enough for nearly any concealed carrier regardless of prior experience, be they new shooters or experienced ones, but also sufficiently deep enough to keep any concealed carrier challenged and informed.
I commend this fine book to you for your reading enjoyment and practical applications. – Luke McCoy, Founder, USACarry.com
Ben's book is a detailed, analytical, and logical approach to the many tools, tactics, and techniques you need to help you survive in a world with turmoil. We here at the Concealed Carry Association of North Carolina have made many of Ben's articles and materials available to our members and they will certainly find this new book practical and helpful.
His state-of-the-art knowledge is expansive and you will gain new hands-on insights that just might help save your life.
I wholeheartedly endorse this excellent and practical concealed carry book and hope you enjoy it. – Marshall Jones, Founder, Concealed Carry Association of North Carolina
Col Ben presents the information in an intelligent, thought-provoking, objective style, and offers many useful suggestions and tips. This book is the one self-defense reference book that truly responsible gun owners must read from cover to cover and have available to refer back to. It genuinely gets you to think about the issues and is a down-to-earth and easy-to-read resource. I have had the pleasure of knowing Col Ben for a number of years and have enjoyed reading his work relating to firearms training and concealed carry. He has much to offer.
Without hesitation, I recommend Ben's outstanding concealed carry and handgun essentials book. – Michael Roberts, Past President/Director, ERML Sportsmen's Foundation Inc., Florida; NRA Instructor; NRA Life member.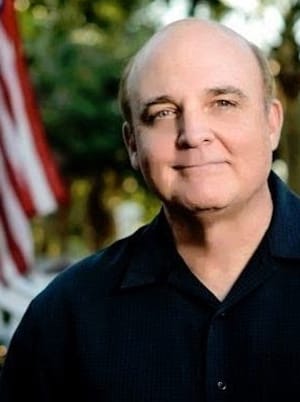 About Ben Findley:
"Col Ben" is retired with 30 years service in the U.S. Air Force, with joint services Special Ops duty and training, and is Air Force qualified as "Expert" in small arms. Ben is an experienced NRA-Certified Pistol Instructor, NRA Range Safety Officer, and FL Concealed Carry License Instructor. Ben recently wrote the book "Concealed Carry and Handgun Essentials for Personal Protection" with 57 comprehensive Chapters about concealed carry and handgun principles, techniques, and tips for both experienced and new shooters. His reference book is endorsed by several organizations and is available on his website at www.FloridaHandgunsTraining.com. Contact him at [email protected]