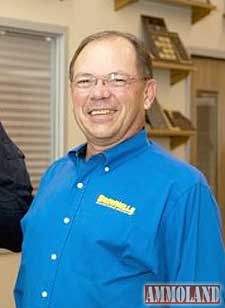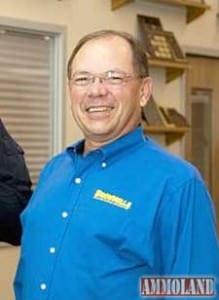 Grinnell, IA -(AmmoLand.com)- This past May bunch of us were out at the NRA Annual Meeting in Louisville, Kentucky, and . . . what a blast!
The NRA is reporting attendance a bit north of 81,000, which makes this the second highest NRA show attendance ever. Only the 2013 show in Houston had more visitors. I can believe that attendance, too – the area in front of the Brownells booth often looked like a mob scene, along with the huge number of folks who came to meet and get autographs from Janna Reeves, the 3-gun shooter we are very pleased to sponsor, and Eric and Chad from Iraqveteran8888.
Plus the Hulk, himself, Lou Ferrigno, who is still in "Wow" shape and had a great time. And Pete, NRA First Vice President and Brownells CEO, took part in the opening ceremony and a whole host of other meetings and events during the week he was there – a lot of proud moments for me, his dad! I want to thank all of you who voted for his re-election to the NRA Board.
One of the folks manning our booth tells me we gave out 5,000 Brownells goodie bags, and for a while there, a bag changed hands every 12 seconds on average! We met and talked with so many Brownells friends, fans, and customers that it was like a giant family reunion. What an amazing time, and although we were all totally wiped out when the show closed Sunday afternoon, now that we've recovered a bit, we've all decided was a "gen-u-ine" hoot and we all had a really great time!!
Next year's NRA Annual Meeting will be in Atlanta,

April 28-30, 2017

. Best mark your calendar now.
Keeping The Noise Down – Earlier in April, Brownells proudly hosted the American Suppressor Association's Suppressor Shoot at our Big Springs Range, just a few miles from our Grinnell, Iowa headquarters. About 600 folks gathered to shoot all kinds of guns equipped with sound suppressors to celebrate Iowa becoming the 42nd "Hearing Safe" state in the union.
It was amazing to see that many people show up on pretty short notice. Vendors who were there representing firearm and suppressor manufacturers told us they had never seen anything like it at similar events in other states, where they typically see maybe 100 or so attendees. Vendors at the Iowa event who brought suppressors for folks to test included: Advanced Armament, Gemtech, SIG Sauer, Silencerco, Thunderbeast, and Yankee Hill Machine. Brownells offers many great suppressor-related products from these fine companies, and we're looking to add even more suppressors in the near future.
The most enjoyable part was being able to walk up and down three different firing lines, with people blasting away with AR-15's, a 12 gauge shotgun, and even a bolt gun in .338 Lapua, without needing any ear protection – and being able to carry on normal conversations with everyone.
Suppressors make so much sense. Maybe one day, we'll be able to just buy them exactly like a firearm, and not have to fill out all the extra paperwork and wait for ATF approval.
New At Brownells – A lot of manufacturers show off their newest wares at the NRA Show, and this year was no different. We liked seeing the new stuff, but our new product team is always working hard to find the latest and greatest products to pick up. Here are just a few of the things we've recently added to Brownells.com.
More and more folks are finding out how easy and FUN it is to build their own AR-15. The "easy" part is helped by having the right tools for the job. So our Gun Techs assembled an AR-15 Lower Pin Punch Set for installing all the little parts-n-pieces that go into a standard AR-15 lower receiver. There's a nylon punch that absolutely will not scratch up your gun's finish, plus punches for the hammer and trigger pins, the triggerguard, and the pivot and takedown pins. The bolt catch pin can be a tricky little bugger to install – unless you have our punch that's specially shaped to clear the side of the receiver. Yup, that's in the set, too, plus bonus punches for the forward assist pawl and the gas tube roll pin.
Everybody who gets into Modern Sporting Rifles comes to know that Geissele is one of the top names in AR-15 parts and accessories. We've just added their lineup of high-quality optics mounts that will help you install anything from an Aimpoint or Trijicon red dot to a high-magnification tactical scope on your rifle. There are even specific mounts just for AR's chambered in 7.62/.308.
We're really slingin' rifle accessories around, too, as we've picked up a whole passel of new rifle slings from Black Rain Ordnance, Blue Force Gear, Butler Creek, GrovTec, Haley Strategic, Tac-Shield, and Viking Tactics. We've got 'em in single-point, two-point, and three-point configurations, even one just for an AK-47. A "working" rifle just isn't complete without a good sling!
If you love the Remington 700, as so many bolt action fans do, check out the new fully-adjustable trigger unit from TriggerTech. It just drops into your rifle to give you a pull you can adjust from 4 lbs. down to only 1.5 lbs. Plus, the adjustments are calibrated in 1-oz. increments, giving you total control to set a truly custom trigger pull.
As you know, we are in the midst of the campaign for the President of the United States. This is an extremely volatile time, and we are arriving at a turning point in the history – and future – of America.
While the gun issue seems to be the focus of most of the speeches, and especially in the liberal media, what is really at stake is the make-up of our Supreme Court. The next President will have to make an appointment immediately to fill the seat of Justice Scalia, who died this year. The votes by the current court, with Justice Scalia sitting, on both the Heller decision and the McDonald decision were 5 to 4. The conservative justices were the 5, the liberal justices were the 4. Now the court is 4 liberals and 4 conservatives. Here's a look at the Supreme Court makeup ranked by how liberal or conservative their votes are. Take note where the last two appointees, Sotomayor and Kagan, land on this scale.
The Supreme Court will decline to hear cases involving the gun issue until the new President appoints the new justice. What is at risk here is which kind of justice will be appointed for life. A long enough period to either reinforce or tear apart the Second Amendment.
We care deeply who makes the appointment.
A liberal President will appoint a liberal justice. And with the support of a liberal senate that justice will be confirmed. So if your personal choice of candidate did not make it and you've decided not to vote, that is a vote for a liberal, anti-gun President and a liberal, anti-gun justice. If you find the conservative candidate offensive and get pulled into voting for a third-party candidate, that is a vote for a liberal, anti-gun President. A third-party candidate simply will not win the presidency.
If you are so angry at either candidate that you stay away from the polls and don't vote – that is a vote for a liberal, anti-gun President and a liberal, anti-gun Supreme Court.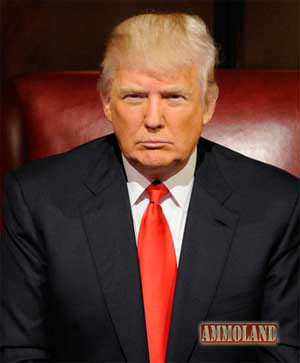 Now is the time to get over any personal issues you might have. Open your eyes. Will your position save the Second Amendment? So get over it. Get behind the pro-gun, conservative candidate to keep the court majority pro-gun. Support the Senator who supports this pro-gun, conservative candidate so the appointment of a pro-gun, conservative justice will be ratified.
Understand that your vote has an impact beyond the traditional 4 or 8 years of a President's term. It really counts more this time than at any other time in your voting life.
With an anti-gun, liberal Supreme Court majority, your children, grandchildren, great-grandchildren and on will not have the personal protection and personal ownership of firearms all of our forefathers and all of us have enjoyed.
The Second Amendment will be gutted. We have to join together and support the pro-gun, conservative candidates for the House, Senate and President. Not to do so will change the lives of all of us who cherish our firearm freedoms. It will be devastating, and if we don't vote, we've got no one to blame but ourselves.
We rarely talk politics in our messages, except when we see a real and dire threat to the Constitution of this great country. So, let's "Man Up", as they taught me in the Navy.
Exercise our rights as American citizens to keep the Second Amendment alive and in place with a pro-gun, conservative justice on the Supreme Court, appointed by a pro-gun, conservative President and confirmed by a pro-gun Senate.
About Brownells:
Serious About Firearms Since 1939, Brownells is the world's leading source for gun parts and accessories, ammunition, gunsmithing tools, survival gear and archery. With a large selection of both common and hard-to-find items, and an extensive collection of videos, articles, and gun schematics, Brownells is the expert for everything shooting-related. Committed to maintaining our great traditions, Brownells has more, does more and knows more – and guarantees it all, Forever. Stay up-to-date with Brownells on Facebook, Twitter and Instagram.
For more information or to place an order, call 800-741-0015 or visit www.Brownells.com.