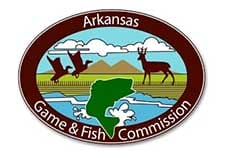 LITTLE ROCK –-(Ammoland.com)- Sixty-eight lucky individuals will be heading to the swamps this September in search of one of Arkansas's largest big game species. Arkansas's 2016 alligator season is Sept. 16-19 and Sept. 23-26, and hunting is only allowed at night.
All permit winners must attend a hunter orientation class before being issued their permits. Orientation classes will be held from 9-11 a.m., August 6 at the AGFC's regional offices in Hope and Monticello. Another orientation class will be available from 9-11 a.m., August 13 at the AGFC Headquarters in Little Rock. Permit winners will need to bring $35 for the processing of their permit. Successful private land at-large applicants also must provide written landowner permission and a map of their proposed hunt area.
Alligator hunting isn't for the faint of heart. Hunters scan the surface of the water with spotlights from a boat, pinpointing alligators before easing up to them with a harpoon or handheld snare.
"Alligator's eyes glow red in the light," said Mark Barbee, the AGFC biologist in Monticello who coordinates the annual alligator hunt. "Easing up to them with a pole-mounted snare or harpoon can be as challenging as finding one if you haven't already done some scouting."
The slow, steady approach is followed by an intense bout of chaos once the harpoon hits home or snare snaps closed. Alligators are known to roll, dive and thrash violently during the fight, and the larger the gator, the harder it pulls.
Permit winners are allowed up to three assistants during the hunt, but only the permit holder is allowed to snare, harpoon and dispatch the alligator.
"Safety is extremely important, not just from the hazards of fighting the alligator, but with handling firearms during the hunt," Barbee said. Unlike the television scene that spawned the popular slogan of "Choot 'em," Arkansas alligator hunters must completely subdue the gator before finishing it with a shotgun or shotgun shell-loaded bang stick using shot no larger than no. 4 common shot. "It's lethal when placed properly behind the alligator's head, but isn't something people are going to just jab into the middle of the fight."
Once dispatched, all alligators must be tagged with a temporary possession tag and hunters must notify the AGFC by phone to check the animal. All hunt details will be provided at the mandatory hunter orientation classes.
2016 Alligator Permit Winners
Jake Hargraves, Hope – Zone 1 Dr. Lester Sitzes III Bois D'Arc WMA (Public)
Brad Ainsworth, Magnolia – Zone 1
Dr. Clancy Cleveland, Prescott – Zone 1 Little River (Public)
William Stafford, Ashdown – Zone 1 Little River (Public)
Rebecca Myers, Ashdown – Zone 1 Millwood Lake (Public)
Joshua Thomson, Ashdown – Zone 1 Millwood Lake (Public)
Michael Henderson, Murfreesboro – Zone 1 Millwood Lake (Public)
Cody Cruse, Ogden – Zone 1 Millwood Lake (Public)
Jacky Simmons, Lockesburg – Zone 1 Private Land At-Large
Neal DeLee, Hot Springs – Zone 1 Private Land At-Large
Stephen Allen, Lewisville – Zone 1 Private Land At-Large
Hoy Pittman, Benton – Zone 1 Private Land At-Large
Randy Pharr, Emerson – Zone 1 Private Land At-Large
Samuel Bowman, Ashdown – Zone 1 Private Land At-Large
Jackie Camp, Magnolia – Zone 1 Private Land At-Large
Jason Teague, Nashville – Zone 1 Private Land At-Large
Johnathon Tollett, Fouke – Zone 1 Private Land At-Large
Knighten Starnes, North Little Rock – Zone 1 Private Land At-Large
David Baker, Stamps – Zone 1 Private Land At-Large
Blair Lovewell, Ashdown – Zone 1 Private Land At-Large
Thomas Jones, Little Rock – Zone 1 Private Land At-Large
Benjamin Jones, Little Rock – Zone 1 Private Land At-Large
Denis Dunderdale, Cotter – Zone 1 Private Land At-Large
Lance Williams, Roland – Zone 1 Private Land At-Large
John Bennett, Texarkana – Zone 1 Private Land At-Large
Kayla Taylor, Hope – Zone 1 Private Land At-Large
Alyn Watson, Magnolia – Zone 1 Private Land At-Large
Mark Fielding, Horatio – Zone 1 Private Land At-Large
James Fraser, Vilonia – Zone 3 Lower Arkansas River Wetland Complex (Public)
Don Burchett, Barling – Zone 3 Lower Arkansas River Wetland Complex (Public)
Nicholas Karras, Cabot – Zone 3 Lower Arkansas River Wetland Complex (Public)
Nathan Smith, Clinton – Zone 3 Lower Arkansas River Wetland Complex (Public)
Abby McCool, Prattsville – Zone 3 Lower Arkansas River Wetland Complex (Public)
Charles Miller, Dumas – Zone 3 Lower Arkansas River Wetland Complex (Public)
Austin Hill, Dumas – Zone 3 Lower Arkansas River Wetland Complex (Public)
Timothy Foster, Dumas – Zone 3 Lower Arkansas River Wetland Complex (Public)
Jerry Wilson, North Little Rock – Zone 3 Lower Arkansas River Wetland Complex (Public)
Brett Crow, Pine Bluff – Zone 3 Lower Arkansas River Wetland Complex (Public)
Dewayne Ray, Star City – Zone 3 Lower Arkansas River Wetland Complex (Public)
Amber Hurtt, Judsonia – Zone 3 Lower Arkansas River Wetland Complex (Public)
Kirk Coward, Paragould – Zone 3 Lower Arkansas River Wetland Complex (Public)
Trevor Graddy, Batesville – Zone 3 Lower Arkansas River Wetland Complex (Public)
Michael Cordaro, Russellville – Zone 3 Lower Arkansas River Wetland Complex (Public)
David Boullie, Ward – Zone 3 Lower Arkansas River Wetland Complex (Public)
Wesley Rainwater, Royal – Zone 3 Lower Arkansas River Wetland Complex (Public)
Jonathan Ross, Clinton – Zone 3 Lower Arkansas River Wetland Complex (Public)
Michael Huckabee, Paragould – Zone 3 Lower Arkansas River Wetland Complex (Public)
Johnny Thomas, Hazen – Zone 3 Lower Arkansas River Wetland Complex (Public)
Tiffani Burns, DeWitt – Zone 3 Private Land At-Large
Kenny Hunter, Star City – Zone 3 Private Land At-Large
Slade Kagebein, Ethel – Zone 3 Private Land At-Large
James Pelt, Camden – Zone 3 Private Land At-Large
Jackson Weaver, Little Rock – Zone 3 Private Land At-Large
Jeffrey Hillman, Lake Village – Zone 3 Private Land At-Large
Tyler Richmond, White Hall – Zone 3 Private Land At-Large
Gary Darrough, Star City – Zone 3 Private Land At-Large
Andrew Norwood, Little Rock – Zone 3 Private Land At-Large
Patrick McGarity, Sheridan – Zone 3 Private Land At-Large
Richard Cargile, Searcy – Zone 3 Private Land At-Large
Austin Miller, Elaine – Zone 3 Private Land At-Large
Garrett McGhee, Wynne – Zone 3 Private Land At-Large
Will Fagan, Greenbrier – Zone 3 Private Land At-Large
Chris Peterson, Star City – Zone 3 Private Land At-Large
Joshua Bishop, Little Rock – Zone 3 Private Land At-Large
Joseph Williams, Crossett – Zone 3 Private Land At-Large
Matthew Taylor, Hamburg – Zone 3 Private Land At-Large
Barry Bateman, Paragould – Zone 3 Private Land At-Large
Nate Burnett, Paragould – Zone 3 Private Land At-Large