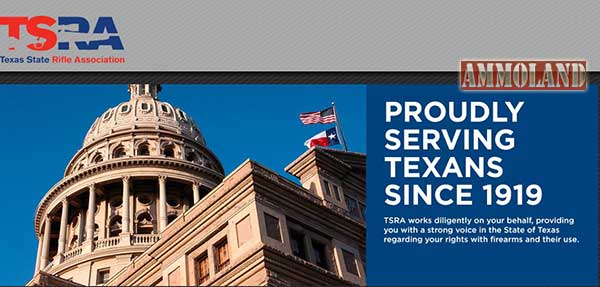 Austin, TX -(AmmoLand.com)- The Texas State Rifle Association Foundation, Inc. (TSRAF), a 501(c)(3) tax exempt organization that raises funds in support of a wide range of firearm-related public interest activities of the Texas State Rifle Association (TSRA), is pleased to announce its 2016/2017 TSRAF 'William Clarke, Jr.' Scholarship recipients.
The TSRA Foundation is awarding three scholarships for the 2016-2017 academic year, and recipients include Katie Bridges of Marble Falls, Texas, senior at TCU; Rachel Gardner of Weatherford, Texas, sophomore at TCU; and Mindy Miles of Celina, Texas, junior at TCU. In addition to their academic merits, all three scholarship winners have displayed proficiency in Air Rifle/Smallbore rifle shooting sports. Each scholarship winner will receive $1,000 per semester, contingent upon verification as a full-time student and qualifying GPA.
"We congratulate this year's scholarship winners and wish them great success in their academic pursuits," says Texas State Rifle Association Foundation Operations Coordinator Angela Gerlich. "We had eight applicants this year and all of them showed impressive academic and shooting sports accomplishments which made this year's selection no easy task."
Gerlich explains that the TSRA Foundation academic scholarships are thanks due to the generosity of William Clarke Jr.'s estate, as well as an additional anonymous donor. The scholarships are dedicated to assisting aspiring collegiants who participate in competitive or recreational shooting.
To contribute to the TSRAF scholarship fund or for more information on how to help more Texas youth become involved in shooting sports, please contact the TSRA Foundation at 512.615.4115. The TSRA Foundation is an approved IRS 501(c)(3) tax-deductible organization recognized by the IRS. The Foundation accepts monetary donations, property, securities, firearms (in working condition), ammunition and additional goods and services.
"With the help of gun owners and Second Amendment supporters across the State of Texas," adds Gerlich, "we can make a real difference by educating our citizens to our fundamental rights as outlined by the Constitution, to what it means to be responsible gun owners, and to the excitement and fun of youth shooting sports."
About the Texas State Rifle Association:
Founded in 1919, the Texas State Rifle Association is the largest firearms and shooting sports organization in Texas with nearly 40,000 members. TSRA is also the largest, award-winning state affiliate of the National Rifle Association and is sanctioned by the Civilian Marksmanship Program. As a part of its public education efforts, the association produces a full-color bimonthly publication, TSRA Sportsman, which updates members on current news, hunter education programs, shooting sports competitions, and important issues effecting their Second Amendment rights.
For membership or other information about the Texas State Rifle Association and the Texas State Rifle Association Foundation, visit www.TSRA.com or call 512.615.4200.