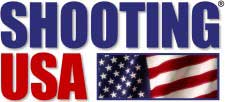 USA – (AmmoLand.com) – Since Jeff Cooper developed the International Practical Shooting Confederation (IPSC) in the 1970s the organization has expanded to more than 90 countries. The sport began as combat shooting with handguns, but it has now evolved to other disciplines, including Tactical Shotgun Competition, with semi-autos and pump-actions. At the Rockcastle Shooting Center in Kentucky, the IPSC Tactical Shotgun Championship challenges shooters with a variety of targets, run-and-gun courses of fire, and different ammunition requirements.
Plus, the rifle German paratroopers took to the battlefields during World War Two. The rare FG-42 that is capable of firing 750 rounds per minute is now one of History's Guns.
Then, we go back to school with the Master of the Longbow. Byron Ferguson teaches us how to shoot targets out of the air at his Bow School. Tune in Wednesdays to the Outdoor Channel!
AIR TIMES BY TIME ZONE
The Shooting USA Hour Wednesday:
Eastern Time: 9:00PM, 12:30 AM, 3:00 AM (Thurs.)
Central Time: 8:00 PM, 11:30 PM, 2:00 AM (Thurs.)
Mountain Time: 7:00 PM, 10:30 PM, 1:00 AM (Thurs.)
Pacific Time: 6:00 PM, 9:30 PM, Midnight
Shooting USA is listed as a one-hour show in your cable menu.
Multi-Gun Police Competition
This week, the crew heads to Fairfax, Virginia for the NRA Tactical Police Competition. It's three-gun with duty gear only! Law enforcement and military compete at the two-day match. Stay tuned for the action!
Stay Connected!
Be sure to "Like" Shooting USA on Facebook for behind-the-scenes action, and "Follow" us on Instagram too.
About Shooting USA:
Jim Scoutten, America's Most Watched Firearms Reporter, has been on the beat for 24 years, reporting the stories of the Shooting Sports and the firearms Industry. The show produces a series of popular segments focusing on historical guns, the personalities in the sport and industry, insider reports from gun tests, and practical tips from shooting sports pros. The show appeals to shooting sports enthusiasts of all ages and skill levels by providing practical tips on safely handling, modifying and repairing their favorite guns.
For more information, please visit www.ShootingUSA.com.