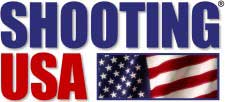 USA – (AmmoLand.com) – It's the world's longest running rifle match in the world. The PALMA Long Range World Championship is in the USA for the first time in 23 years. It won't return for another 27 years! The competition is held on the ranges at Camp Perry, with teams shooting at 800, 900 and 1,000 yards with iron sights. Nearly a dozen countries compete for the Tiffany's & Co. trophy, and for bragging rights!
Plus, Hornady's engineers discover an issue with a bullet that leads to a breakthrough in accuracy! It's sure to increase your precision game on the range, or on your next hunt.
 And, the Royal Navy was armed with the British Sea Service pistol in the 1600s. Now, it's one of History's Guns. Tune in Wednesdays to the Outdoor Channel!
AIR TIMES BY TIME ZONE
The Shooting USA Hour Wednesday:
Eastern Time: 9:00PM, 12:30 AM, 3:00 AM (Thurs.)
Central Time: 8:00 PM, 11:30 PM, 2:00 AM (Thurs.)
Mountain Time: 7:00 PM, 10:30 PM, 1:00 AM (Thurs.)
Pacific Time: 6:00 PM, 9:30 PM, Midnight
Shooting USA is listed as a one-hour show in your cable menu.
Metallic Handgun Silhouette
It is the 40th Anniversary of the International Handgun Metallic Silhouette Association, and now the group is celebrating with its World Championship in Oklahoma. Our crew will be there as hundreds aim at steel chickens, pigs, turkeys and rams 200 meters away! Stay tuned for our special coverage.
Stay Connected!
Be sure to "Like" Shooting USA on Facebook for behind-the-scenes action, and "Follow" us on Instagram too.
About Shooting USA:
Jim Scoutten, America's Most Watched Firearms Reporter, has been on the beat for 24 years, reporting the stories of the Shooting Sports and the firearms Industry. The show produces a series of popular segments focusing on historical guns, the personalities in the sport and industry, insider reports from gun tests, and practical tips from shooting sports pros. The show appeals to shooting sports enthusiasts of all ages and skill levels by providing practical tips on safely handling, modifying and repairing their favorite guns.
For more information, please visit www.ShootingUSA.com.