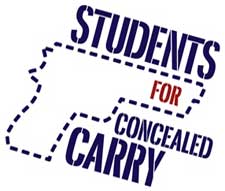 Austin, TX -(AmmoLand.com)- Opponents of Texas' campus carry law have had well over a year to study the issue, yet many still don't understand the law they're protesting.
In an August 4 interview with Time Warner Cable News Austin, UT-Austin senior Elyse Avina—founder of Students Against Campus Carry—described her apprehension about the new law, saying, "It's definitely made me very anxious to walk into certain open areas of the campus."
In reality, Texas law has allowed the licensed, concealed carry of handguns in the "open areas" of the UT-Austin campus—anywhere other than inside a campus building—since January 1, 1996.
The "fear factor" experience by Avina, a fourth-year rhetoric major, has far more to do with her own skewed perception of the law than with the law itself.
About Students for Concealed Carry:
Students for Concealed Carry (SCC) is a national, non-partisan, grassroots organization comprising college students, faculty, staff, and concerned citizens who believe that holders of state-issued concealed handgun licenses should be allowed the same measure of personal protection on college campuses that current laws afford them virtually everywhere else. SCC is not affiliated with the NRA or any other organization. For more information on the debate over campus carry in Texas, visit WhyCampusCarry.com.
For more information on SCC, visit ConcealedCampus.org or Facebook.com/ConcealedCampus.