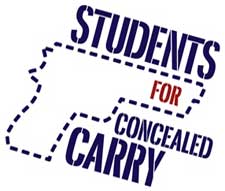 Austin, TX -(AmmoLand.com)- It seems that no matter how hard we at Students for Concealed Carry (SCC) try to maintain civility with opponents of campus carry, some of those opponents can't reciprocate with the same level of decorum.
When anti-campus carry activists organized a first-day-of-class protest at the University of Texas at Austin, SCC didn't rally allies to stage a counter-protest or put out a statement reminding the media that protest organizers are factually wrong in asserting that UT students "would receive a citation for taking a dildo to class before [they] would get in trouble for taking a gun to class." Instead, SCC sent just two members to attend the event, with a message of unity. However, that didn't stop one UT professor who spoke at the protest from slandering SCC.
After characterizing campus carry opponents—a roster including five universities that are among the twenty largest employers in the Lone Star State, several other universities that are the largest employers in key Texas Senate districts, and a national gun-control conglomerate that spent $80,000 on anti-campus carry TV ads in Texas in 2015—as David in a David and Goliath battle against the powerful campus carry movement—a movement led by an all-volunteer, student-led organization—Mia Carter, Ph.D., associate professor of English and one of three plaintiffs in a federal lawsuit seeking to strike down the state's campus carry law—said, "David's going up against faux student groups funded by the gun lobby [emphasis added]…The vision of a vibrant and safe public education system in Texas is going to come from down here, from the grassroots, from the people who are not beholden to the legislators with the destruction of public education on their agenda."
That's a whole lot of crazy in one statement. Not only does Doctor Carter espouse the same baseless conspiracy theories about SCC's founding and funding that have thus far been the exclusive domain of activist-funded tabloids and crackpot Internet trolls; she actually portrays the state's powerful university systems—which succeeded for three consecutive sessions in blocking campus carry legislation that had broad support in the Texas Legislature—as the underdogs and suggests that Texas lawmakers are actively trying to destroy public education in their own state.
Antonia Okafor, SCC Southwest regional director, commented, "If I caught one of SCC's members making claims this outrageous, I not only wouldn't let her speak at a rally; I'd block her from commenting on our Facebook page and ask her not to attend campus meetings."
Sadly, Doctor Carter isn't the only UT-Austin professor to lose touch with reality when discussing Students for Concealed Carry. After Susan Schorn, Ph.D., senior program coordinator and curriculum specialist for writing at UT's Center for the Skills & Experience Flags, tweeted that only one campus carry supporter (not an SCC member) showed up at the protest (a protest against campus carry), SCC's Texas chapter responded by pointing out that two SCC members were there holding up a banner promoting SCC's belief that freedom of speech and concealed carry of handguns can peacefully coexist. This led Doctor Schorn to launch into an abusive, profanity-laden rant in which she called SCC members "gun nuts," compared SCC members to the perpetrators of this year's militia standoff at the Malheur Wildlife Refuge in Oregon, and accused SCC members of harboring "rape fantasies" about her.
Okafor concluded, "I think it's clear that, for some of these people, opposition to campus carry has little to do with the facts or safety concerns of the issue and a lot to do with personal prejudice and some deeply held—and deeply misguided—beliefs."
SEE ALSO: "The Students Behind 'Students for Concealed Carry'" by Gabriel Sandoval, The Chronicle of Higher Education (paywalled).
About Students for Concealed Carry:
Students for Concealed Carry (SCC) is a national, non-partisan, grassroots organization comprising college students, faculty, staff, and concerned citizens who believe that holders of state-issued concealed handgun licenses should be allowed the same measure of personal protection on college campuses that current laws afford them virtually everywhere else. SCC is not affiliated with the NRA or any other organization. For more information on the debate over campus carry in Texas, visit WhyCampusCarry.com.
For more information on SCC, visit ConcealedCampus.org or Facebook.com/ConcealedCampus.