By Mike Searson
Mike reviews the Black Storm Defense IWB Holster & the S&W M&P9C CCW combo.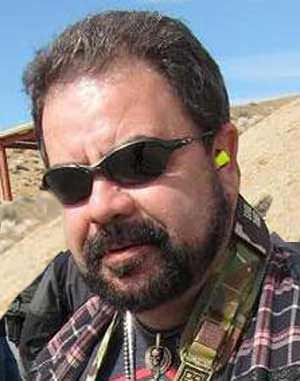 USA –  -(Ammoland.com)- Every now and then we change up our CCW pistol or holster.
Not for the sake of just doing it, but in order to try different concepts with regard to a particular firearm or holster. Hopefully, our readers get some benefit from this.
Not in the "Do what I do" sense, but more or less just picking up new tips or concepts. This time we decided to take another run at the S&W M&P Pistol in compact form.
Despite being a certified S&W M&P Armorer, we used to hate on that pistol something fierce. For as many things that Smith & Wesson did well, we always felt the M&P series came up short with regard to the trigger.
Short answer: We thought it sucked out of the box and resented having to pay almost the cost of the pistol to put a decent trigger in it.
Still, we have always liked S&W firearms and really wanted to see the M&P design succeed.
A few months ago we tried out a Smith & Wesson M&P Compact in 9mm as a new pistol for daily carry. Part of our reason for trying this was based upon installing an Apex Tactical Forward Set Sear & Trigger Kit.
This kit sets the sear in a slightly more forward position. This in turn shortens the stroke of the trigger pull by placing the striker at a point farther forward than the factory sear. Combined with the forward set striker block that has an improved radius on the striker block face; the shooter gets a smoother trigger pull and a positive reset. The total trigger travel is reduced to 0.12".
Depending upon which return spring you install, you can go as light as 4lbs or as high as 5.5lbs and the uptake and reset become as smooth as silk. The factory trigger weighs in at 7 pounds and feels like mush, so even the heavier Apex version will feel miraculous.
Changing this positioning of the trigger on the M&P makes it feel more like shooting a 1911 or Browning Hi Power with regard to finger placement. The unsightly two-piece factory trigger can then be placed where it belongs: in the garbage.
The Smith & Wesson M&P Compact in 9mm gives you 15 rounds at your disposal and we found it just a hair wider than the M&P Shield Pistol. With the medium back strap installed, it fit our hand perfectly.
Black Storm Defense IWB Holster
Out at the range we were amazed how the pistol was transformed. We wanted to carry it and simply had no suitable holsters for an M&P Compact, so we checked out Black Storm Defense ( www.blackstormdefense.com ) for something different.
Black Storm Defense sent us an "Inside the Waistband" holster (IWB). The Black Storm Defense IWB Holster is designed for both concealment and comfort and is adjustable for both height and cant. The holster consists of a backing board made from top grain premium steer-hide and the leather front is finished with a durable polyurethane finish as a protective measure. The holster body is molded from Kydex to the exact specifications of each gun model.
On the plus side, when a pistol is placed in the Black Storm Defense IWB Holster, it fits like a glove. Adjustable screws allow you to adjust the tension to your comfort level.
We see the genius behind a hybrid holster in the long backing board. On first glance it looks bigger than necessary, bulky and ungainly.
When trying to conceal a handgun, why would anyone go with a large holster?
The reasoning is that the long backing board spreads the weight and balance of the handgun over a greater surface area when worn inside the waistband. The Kydex body has a sight channel to allow for a smooth draw and completely covers the trigger-guard for the utmost in safety.
While wearing the Black Storm Defense IWB Holster, the weight of the M&P Compact becomes almost negligible and the long surface area breaks up the outline of the concealed handgun perfectly. It utilizes spring steel retention clips. We have been skeptical if not downright critical of these in the past, but the quality of Black Storm Defense's mounting hardware is top notch and after using this for a few months we are genuinely impressed.
In an unusually hot summer we found this model to be very comfortable and were able to conceal with just a T-shirt that was a size larger in most cases.
The Black Storm Defense IWB Holster has become a staple in the short time that we have tried it. Worn with a proper leather gun belt, it never sags, becomes visible or uncomfortable. This rig can be worn in warm weather with shorts and a t-shirt and never alert an observer to the fact that the wearer is carrying concealed. They make makes this model for a wide variety of handguns, including Glocks, HKs, Berettas, Sigs and Rugers.
They offer a variety of color options beyond basic black on both the leather and the Kydex. For more information check their website at www.blackstormdefense.com
About Mike Searson
Mike Searson's career as a shooter began as a Marine Rifleman at age 17. He has worked in the firearms industry his entire adult life as a Gunsmith, Ballistician, Consultant, Salesman, Author and was first certified to teach firearms safety in 1989.
Mike has written over 2000 articles for a number of magazines, websites and newsletters including Blade, RECOIL, OFF-GRID, Tactical Officer, SWAT, Tactical World, Gun Digest, Examiner.com and the US Concealed Carry Association as well as AmmoLand Shooting Sports News.
Home page: www.mikesearson.com
FB: www.facebook.com/mike.searson
TWITTER: www.twitter.com/mikesearson