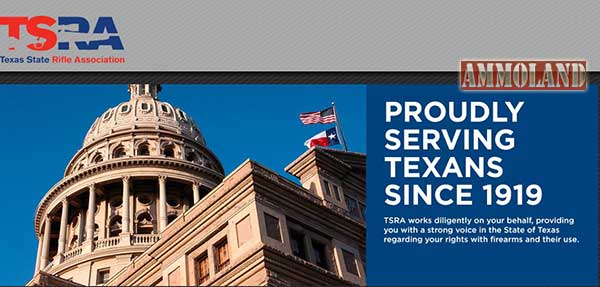 Austin, TX -(AmmoLand.com)- Yesterday in Austin the U.S. District Court for the Western District of Texas agreed with Attorney General Ken Paxton and denied a request by three University of Texas professors to block enforcement of Texas' campus carry law.
The Court concluded the professors were unlikely to prevail in their lawsuit and a preliminary injunction was not issued.
Attorney General Ken Paxton released the following statement:
"I am pleased, but not surprised, that the court denied the request to block Texas' campus carry law. There is no legal justification to deny licensed, law-abiding citizens on campus the same measure of personal protection they are entitled to elsewhere in Texas. The right to keep and bear arms is guaranteed for all Americans, including students, and I will always stand ready to protect that right."
To view a copy of the opinion, click here:
TSRA members applaud the work of our Texas Attorney General and his capable staff.
Without a doubt this is the first round of attack on a law that took 4 legislative sessions to pass and was a joint project between the House and the Senate.
Virginia Tech was the catalyst which drove the securing of this form of individual personal protection on Texas college and university campuses.
Watch for the 2017-TSRA Calendar in your mailbox.
Coming Soon!
The 2017 General Election Voters' Guide will be in your next magazine and on line at www.tsrapac.com before early voting!
Thank you goes out to the Fort Worth Republican Assembly for their attention and hospitality last night. Smart people are a pleasure to be with!
And as always,
Keep the faith.
Alice Tripp
Legislative Director
Texas State Rifle Association-PAC
About the Texas State Rifle Association:
Founded in 1919, the Texas State Rifle Association is the largest firearms and shooting sports organization in Texas with nearly 40,000 members. TSRA is also the largest, award-winning state affiliate of the National Rifle Association and is sanctioned by the Civilian Marksmanship Program. As a part of its public education efforts, the association produces a full-color bimonthly publication, TSRA Sportsman, which updates members on current news, hunter education programs, shooting sports competitions, and important issues effecting their Second Amendment rights.
For membership or other information about the Texas State Rifle Association and the Texas State Rifle Association Foundation, visit www.TSRA.com or call 512.615.4200.