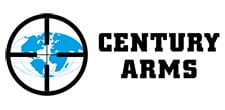 Delray Beach, Fla. – -(Ammoland.com)- Century Arms is proud to announce the sponsorship of professional athlete and competitive shooter Corinne Mosher.
Mosher will represent Century Arms and their Canik line of pistols in action shooting sports, at industry events, and media events.
"We have been discussing bringing a pro athlete onboard to represent Century Arms the Canik pistol line for some time now. When we met Corinne, we knew the time was right. We are extremely pleased to have Corinne become our first professional shooter," said Jacob Herman, Century Arms Director of Business Development.

"We feel Corinne represents a new wave of female shooters in the United States; she is determined, well trained, and extremely professional. When you add to that the fact that she is a dedicated mother, wife, instructor and competitor, she really is the total package. Did I mention she's a classically trained violinist? Seriously, there's nothing this woman can't do."
Corinne Mosher entered the sport of competitive shooting in early 2014 and is taking the competitive shooting world by storm.
She became a firearms instructor in 2012 and has since become well known throughout the shooting community. She has studied under instructors like Rick Staples, Clint Smith, David Hill, and Taran Butler. Throughout 2016, she has competed in 25 competitions, routinely finishing at the top of her division and category. Recently Mosher took home the title of 2015 USPSA Area 3 Multi-Gun Limited Division Champion, 2016 USPSA Area 6 Multi-Gun Limited Division Champion, Top Factory Lady at the 2015 3-Gun Nation Nationals and 2016 Top Factory Lady at the Colt USPSA Multi-Gun Nationals. She has also been featured on The Sportsman's Channel's The Big Gun and has other projects in the development.
"I'm honored to be joining the Canik USA pro staff," said Mosher. "I feel that Canik USA is the perfect firearm for all shooters, from weekend plinkers to serious competitors, and I'm looking forward to proving to the shooting community that superior firearm performance doesn't have to come at a premium price."
In addition to her duties as a brand ambassador, Corinne will shoot the Canik line of semi-automatic pistols in action sports like USPSA and 3-Gun representing Century Arms and Canik at events throughout the country.
"I think Corinne is a terrific role model for young women in general and people interested in getting into the shooting sports. I see great things for her in the future," said Herman.
About Corinne Mosher
As the oldest of four children born to two Marines at Camp Pendleton, California, military life took Corinne all over the United States and world before settling down in Kansas City where Corinne lives with her husband and daughter. Corinne attended the University of Missouri Kansas City where she studied at the prestigious Conservatory of Music. Corinne is married to an Overland Park, KS Police Officer and has a daughter that recently became one of the youngest black belts in Korean American Tae-kwon-do at the age of 8. It was after the birth of her daughter that Corinne became interested in personal security and self-defense. Corinne entered the sport of competitive shooting in early 2014 and has quickly gained a national and international following on social media sites. She is a fierce competitor and a proud ambassador to the shooting sports.
Learn more about Corinne at www.CorinneMosher.com
About Century Arms
Born over 50 years ago with its roots in the surplus business, Century Arms has an extensive history of providing unique and affordable products to the American Collector, Hunter, and Target Shooter. That tradition is carried on today, with a state of the art manufacturing facility located in the U.S.A, as the company continues to offer unique, innovative, and quality products to the U.S. Consumer and U.S. Government.
For additional information on Century Arms, please visit www.CenturyArms.com.