Co-Founder and President of the American Knife & Tool Institute Honored for His Contributions to the Knife Community.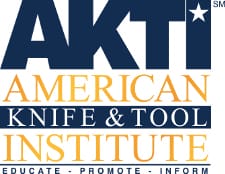 USA – -(Ammoland.com)-CJ Buck, CEO and Chairman of Buck Knives, Inc., Post Falls, Idaho, was recently honored for his extraordinary service and contribution to the knife community. He was inducted at the 2016 BLADE Show into the Cutlery Hall of Fame.
Active members of the Cutlery Hall of Fame elect an annual inductee by a vote prior to each show.
Hall of Fame member Goldie Russell, President of A.G. Russell Knives, and Jan Billeb, Executive Director of the American Knife & Tool Institute, shared how CJ Buck's foresight and commitment in the formation and work of the American Knife & Tool Institute insured that a forum for the industry was in place to develop solutions to problems when needed.
"As an ambassador of the knife community and AKTI, CJ Buck has elevated the knife industry's image to the greater world at large and fostered partnerships with labor unions, congressional caucuses and conservation and outdoor groups," noted Jan Billeb.
CJ Buck challenged the organization to be multi-faceted and proactive – protecting the American heritage of knives in daily lives, promoting growth in the industry and encouraging the next generation of knife users.
"CJ's grandfather Al and father Chuck, also Hall of Fame members, would be proud of him – the man he is, heritage he successfully continues and his accomplishments to ensure that everyone in the knife community can continue doing what they love – making knives and sharing them with others," said Goldie Russell.

"The Cutlery Hall of Fame includes individuals who have had such a strong and passionate impact on the industry I love," said CJ Buck, "and the fact that those same individuals have accorded this recognition to me is almost overwhelming."

He added, "I continue to enjoy my involvement with the American Knife & Tool Institute and am so pleased with how much progress we have made by working together. From the closed and short-sighted 1958 Federal Switchblade Act to the visionary Knife Owner's Protection Act, we have brought outdoorsmen and women together with the building trades in a frank dialogue based on logic and reason and not fear. We have partnered with legislators and law enforcement rather than just be adversarial and have brought about change in how knives are regarded. That momentum continues."
About AKTI
The American Knife & Tool Institute is the non-profit advocacy organization for the knife industry and all knife owners. Its mission is to ensure that Americans will always be able to make, buy, sell, own, carry and use knives and edged tools. Formed in 1998, AKTI is dedicated to educating, promoting and providing relevant and accurate information about knives and edged tools as important tools in daily American life. For more information, visit AKTI.org