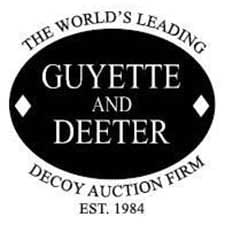 USA – -(Ammoland.com)- Guyette & Deeter, Inc. conducted their annual summer decoy auction on July 28 and 29 at the Sheraton Harborside Hotel in Portsmouth, New Hampshire. It was accompanied by a 50 table dealer show.
The auction grossed just under $3 million, with 65 lots selling for over $10,000 and 2 lots selling for over $100,000.
Prices soared for iconic sporting art from the Paul Tudor Jones II collection. The top decoy in the sale was an exceptional golden plover by John Dilley (Kleinpeter collection) that sold over estimate for $103,500. Another top decoy was a preening black duck by Albert Laing (Griffith collection) that sold over estimate at $97,750
Sporting art sold in the auction included works by Andrew Wyeth, Lynn Bogue Hunt, Percival Rosseau, Robert Bateman, Frederic Remington, A. Lassell Ripley, Eric Sloane, Carl Rungius, H. Granville Smith, Robert Abbett, Stevan Dohanos, Roland Clark, David Maass, A.B. Frost, Ogden Pleissner, Francis Lee Jaques, and Harry Antis.
Decoys by Elmer Crowell and the Ward Brothers did well at this sale. Shorebird decoys surged as well.
An influx of new buyers continues to have an impact at Guyette & Deeter auctions. Guyette & Deeter's guaranteed condition reports, provided for each item, along with a trusted reputation for giving sound collecting advice, have worked to create a comfortable environment for their clients. Guyette & Deeter's goal is to provide advice that will encourage buyers to continue collecting into the future. Also, Guyette & Deeter's Buyer's Premium remains at 15%.
The Portsmouth event featured decoys and sporting art from the collections of John Garner, Barbara Gilford, Dr. Lloyd Gilford, Paul Tudor Jones II, Linda & Gene Kangas, Ben Kleinpeter, John Longfellow, J.W. Lowe, Roger Mallar, Doug & Ellen Miller, Maunsel & Ann Pearce, Dr. Warren Bradley Spurge, and Hope & George Wick.
Guyette & Deeter, Inc., established in 1984, is the world's largest decoy auction firm with over $165,000,000 in decoy sales. They hold four cataloged auctions per year; Charleston, South Carolina in February; St. Charles, Illinois in April; Portsmouth, New Hampshire in July; and Easton, Maryland in November. For more details, visit their website at www.guyetteanddeeter.com. The firm also conducts weekly online auctions at www.decoysforsale.com. Since 1989, Guyette & Deeter has dominated the decoy auction market. In January 2007, Guyette & Deeter, in conjunction with Christie's (New York), sold a merganser hen by Lothrop Holmes for a world record auction price of $856,000. Guyette & Deeter's next decoy sale will be held November 11-12, 2015 in Easton, Maryland. It is held in conjunction with the Easton Waterfowl Festival. Quality consignments for the sale will be accepted until September 17 or until full.
Guyette & Deeter provides free decoy appraisals to anyone sending a decoy photo and stamped, self-addressed envelope to: Guyette & Deeter, PO Box 1170, St. Michaels, MD 21663. For email send to: Gary Guyette: [email protected], Phone: 410-745-0485.
Guyette & Deeter's next sale will be held in November in conjunction with the Easton, Maryland Waterfowl Festival. Quality Consignments accepted until September 15 2016.
Click here to view the Summer 2016 highlights.
About Guyette & Deeter
Established in 1984, Guyette & Deeter, Inc. has held over 120 live auctions, realizing over $160 million in sales of decoys, paintings, and related sporting items. Our firm has handled the most important decoys and collections in North America and we have set nearly all of the world records in these categories: duck and shorebird decoys, fish decoys and plaques, duck calls and crow calls, decorative carvings, shotgun shell boxes, salesman sample canoes, and other related items. Visit : www.guyetteanddeeter.com