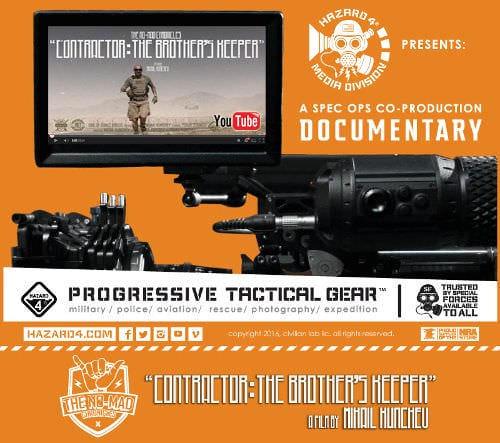 USA -(AmmoLand.com)- Hazard 4 Media Division presents the pilot episode of the documentary series 'The No-mad Chronicles' titled 'Contractor:
The Brother's Keeper' (click here to view video) co-produced by Mihail Kunchev's Bag of Bones Productions, and Hazard 4 California – Progressive Tactical Gear.
This first episode, centers around a special forces soldier from Central Europe, who served in Iraq with coalition forces, experienced terrorism first hand, in an attack that took the lives of his closest allies and friends, then survived to fight another day. This time as a private military contractor, using his hard-learned lessons and tradecraft to protect instead of closing to engage. You will hear his story in his own words as he tries to dispel the myth of the trained-killer and paid mercenary in a thoughtful examination of his fascinating life and deeply held motivations.
This is a first co-production effort from Hazard 4. As a team we hope that this will be the first in a long line of infotainment centered around the themes and individuals we find fascinating, and that our audience will too- Those places and people that push the limits of human endurance and intelligence, where the decks are stacked against them, and they must persevere and step-up in order to survive and thrive. That's the individual Mihail has always admired, and the people for whom Hazard 4 designs.
Please watch the episodes when they debut right here on the Hazard 4 Media Division Youtube Channel, and of course 'like' and 'subscribe' to keep the content coming: youtube.com/hazardfour.
The Entire Hazard 4 Team.
About Hazard 4:
The name 'Hazard 4' is inspired by a standard threat-classification index: '1' low, '2 & 3' moderate, and '4' deadly. Whether created by the natural environment, industrial conditions, or man-made, our gear is designed to be the last line of defense for its owner when facing these. We hope it can make the small critical difference that tips the odds in his/her favor when no one else may be around to help. Or simply makes their day easier.
For more information, visit: www.hazard4.com.