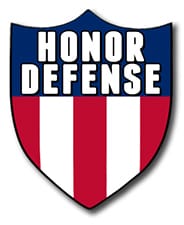 USA –-(Ammoland.com)- Don't miss out on your chance to support the DEA Survivors Benefit Fund ending next week, August 30, 2016, on GunsAmerica.com. GunsAmerica launched an auction for a brand new, All-American Made, Honor Guard Sub-Compact semi-automatic handgun chambered in 9MM.
A non-profit charitable organization, the DEA Survivors Benefit Fund was founded in 1997. Within 24 hours of each line of duty death, a check for $20,000, plus an additional $10,000 for each dependent under 21, is delivered to the DEA agent's family to help them with funeral and family transportation expenses, housing accommodations, and the dozens of other expenses that occur with such a tragedy.
"Agents of the Drug Enforcement Administration are on the front lines of our war against illegal drugs and the violent criminals who make and sell them," said Gary Ramey, president of Honor Defense. "The Survivors Benefit Fund has contributed more than $6 million in line of duty death and educational benefits to the families of DEA agents slain in the line of duty. We are honored and humbled to do our part to help this very important charity."

"Today's reality has put many DEA agents in harm's way in faraway countries such as Afghanistan, Colombia and Mexico while they pursue and prosecute Narco-Terrorists responsible for using their illegal drug proceeds to finance terrorism against Americans," said Richard Crock, Chairman of the DEA Survivors Benefit Fund. Mr. Crock added "We appreciate the auction of this firearm by Honor Defense to support the families of the DEA."
For more information on this important charity, visit www.survivorsbenefitfund.org.
The Honor Guard Sub-Compact that was donated for the online auction is a semi-automatic. Like all pistols in the Honor Defense line up, the Sub-Compact features:
Striker-fired design that can handle 9MM +P loads
Snag-free sights
Trigger with a wide face with a crisp 7lb pull
Short reset for quicker second shot and better control
Ambidextrous slide catch and magazine catch
Available with or without an ambidextrous manual safety lever
Modular system with stainless steel chassis
Custom texture design to provide better grip in all situations
Replaceable back straps to allow customization.
This donation by Honor Defense follows a recent donation of another Honor Defense Sub-Compact for auction, this one to support the Duskin and Stephens Foundation, which aids military Special Operations families.
"We owe a great deal to those who protect our nation and its values," said Ramey. "We can never truly repay that debt. But, in our own way, Honor Defense will continue to support those who defend America."
To learn more about Honor Defense, please visit www.honordefense.com.