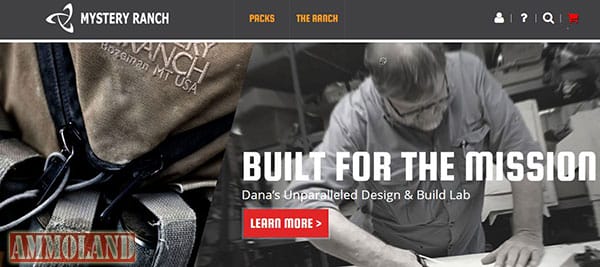 Bozeman, MT -(AmmoLand.com)- MYSTERY RANCH, an industry-leading backpack company recently sat down with Adam Janke, Editor in Chief at The Journal of Mountain Hunting and Host of their "Beyond the Kill" Podcast.
Beyond the Kill.FM is a podcast brought to you by the creators of The Journal of Mountain Hunting, the world's only monthly, digital magazine dedicated exclusively to mountain and wilderness hunting. On Friday, August 26th in Episode 21 of Beyond the Kill.FM Adam is joined by Ryan Holm, Marketing Manager at MYSTERY RANCH for a behind the scenes look into "THE RANCH" and how a longstanding commitment to building packs that last and solving real problems for their customers allowed MR to build one of the strongest brands in the outdoor gear industry.
The recent influx of "ultralight" solutions for the backcountry hunter has created a philosophical divide amongst industry, professionals, and consumers as to where the line exists between ultralight and actually functional. Adam and Ryan dig in on this topic in-depth, specifically as it relates to pack design and more importantly pack performance where it matters most, in the field, not the showroom. Ryan clarifies precisely where MR sits on this subject and explains their emphasis on the most important consideration for any backcountry hunter: load carriage
To hear Ryan and Adam discuss MYSTERY RANCH and much more, find Episode 21 of the Beyond the Kill Podcast at http://journalofmountainhunting.com/2016/08/episode21/.
Also, Visit the JOMH website at www.journalofmountainhunting.com to find their newly released 2 Year Anniversary Issue which contains topics such as the future of Bighorn Sheep and the actions that need to be taken to preserve the great tradition of sheep hunting.
About MYSTERY RANCH:
MYSTERY RANCH is committed to building the finest load-carriage equipment in the world. A product-driven company from the beginning, MYSTERY RANCH designs packs for the job that needs to get done, for the people committed to doing it, with the best materials available and the most durable construction methods that exist.
For more information, visit: http://mysteryranch.com.
#BuiltForTheMission