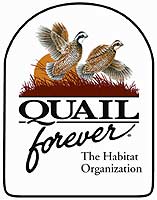 St. Paul, Minn. –-(Ammoland.com)- Quail Forever is excited to announce the hiring of Kenny Barker as the organization's new regional representative in Florida and Georgia. In his new role, Barker will support the growing network of local chapters which fuel habitat conservation efforts and shooting sports initiatives in the Southeast, while acting as a liaison to local, state and federal natural resource agencies on behalf of Quail Forever.
"The states of Florida and Georgia represent an important region for the future of bobwhite quail and shooting sports in the United States," stated Tim Caughran, director of field operations for Quail Forever. "To that end, Quail Forever is ecstatic to have Kenny Barker leading our chapter and partnership efforts in the Southeast, we believe he can make a significant impact for our mission of wildlife habitat conservation."
Barker will provide support and guidance to local chapter volunteers with an overarching goal to maintain the Florida/Georgia Quail Coalition – a partnership between the Florida Fish and Wildlife Conservation Commission, Georgia Department of Natural Resources, Quail Forever, and Tall Timbers Research Station & Land Conservancy to enhance, promote, and conserve quality habitat for the northern bobwhite quail. The partnership also focuses on expanding youth shooting sports in both states using Quail Forever programs – youth mentored hunts, Forever Shooting Sports, Youth Pollinator Habitat Program, and others – to recruit and retain the next generation of outdoor conservationists.
Preceding his new career with "The Habitat Organization," Barker was employed by the National Wild Turkey Federation and the Florida Fish and Wildlife Conservation Commission as the statewide coordinator for the Youth Hunting Program of Florida. In this role, he coordinated and facilitated youth hunting opportunities on private and public lands, focusing on youth recruitment for shooting sports. Most recently, Barker was employed by the National Wild Turkey Federation as a regional director in the state of Florida, working closely with chapter volunteers to raise funds for habitat and conservation work.
"Expanding quail hunting and youth education opportunities for Florida and Georgia hunters through the mission of Quail Forever is an important goal for me," stated Kenny Barker. "I'm looking forward to having an immediate impact in my region and even more exited for the long-term impacts of outreach, conservation, and habitat work in these states." Barker officially started as the Florida/Georgia Regional Representative on August 8th.
Florida and Georgia are home to 13 Quail Forever chapters and more than 2,000 members of "The Habitat Organization." For more information about Quail Forever, the Florida/Georgia Quail Coalition, or shooting sports programs in either state, contact Kenny Barker at (850) 251-0638 or [email protected]
About Quail Forever
Pheasants Forever, including its quail conservation division, Quail Forever, is the nation's largest nonprofit organization dedicated to upland habitat conservation. Pheasants Forever and Quail Forever have more than 149,000 members and 700 local chapters across the United States and Canada. Chapters are empowered to determine how 100 percent of their locally raised conservation funds are spent; the only national conservation organization that operates through this truly grassroots structure. Since creation in 1982, Pheasants Forever has spent $634 million on 502,000 habitat projects benefiting 14.1 million acres nationwide.