Stafford, TX -(AmmoLand.com)- I am pleased to announce that our Blue Line program today handed out its 175th rifle to a deserving Law Enforcement Officer.
Radical Firearms initiated this program to help better arm police officers, not just in Texas but all over the country. That program has grown since its inception; we are now matching rifle for rifle everyone paid for by donations and the public's largesse. Thus far we have donated rifles to 30 agencies. The total number will soon reach 200.
We have shipped LE rifles to officers from agencies as close as Stafford PD to as far away as Baton Rouge, LA. We provided several SBRS to individual BRPD officers to replace the weapons they'd lost to evidentiary procedures following an officer-involved gun battle that left several officers dead or wounded.
We can't help them all, of course, but we do what can. For agencies purchasing departmental rifles, we'll continue to supply a high value weapon a low cost – and to thank you for your service.
If your agency would like to inspect RF rifles for quality, have your Range master reach out to our staff. We will make arrangements for you to test and evaluate the weapon before your officers ever have to stake their lives on it.
On the subject of evaluation, we are still actively seeking knowledgeable reviewers to put our rifles through their paces. We will provide quality ammunition for your review (though we recommend evaluating using multiple brands to be thorough). Unfortunately, due to recent events wherein the nature of a review, its scope and its intent were both grossly distorted and misreported, we will be asking any reviewer to mutually sign an agreement that broadly outlines the weapon and the intended purpose of the review.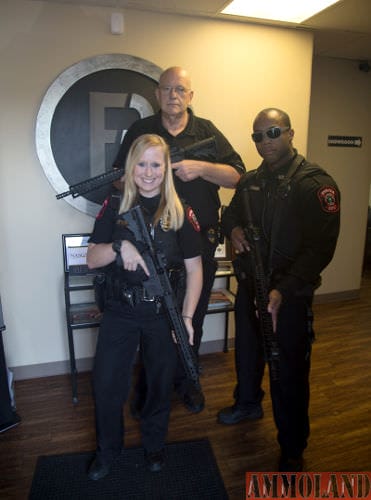 This is not an attempt to control test conditions. Review the weapon as you will – we simply want a clear, non-contractual, mutually agreed upon understanding of anticipated generalities.
Example: an agreement might read "Review of RF-10LH to test reliability, and accuracy under reasonable operating conditions." Should it become necessary, this could then be used to contradict spurious claims the rifle was guaranteed to be a "…select fire RF Tier 1 suitable for use hunting submerged polar bears in the Svalbard Archipelago." Another such agreement could read, "Review of custom upper receiver overported and overgassed sufficiently to cycle training/marker rounds for a training evolution," which could then be used to contradict assertions it was actually a "…16 in. barreled 5.56mm complete Blue Line Rifle" that failed to function.
Note also there will be no cherry picking. You can pull the rifle off the shelf at random or you can come to our HQ and we'll build it right here in front of you while you can watch the entire process. Whether the rifle performs magnificently or abysmally, let us know, tell the world, do as you will—at least the results and report will be righteous. Either way we'll continue to striving to improve and will not stop supporting LEOs.
See also:
Regards,
David Spector, COO
Radical Firearms
About Radical Firearms:
Radical Firearms is a Title II NFA Manufacturer and retailer with a complete lineup of pistols, rifles, suppressors, and machine guns. The company started in 2012 as a small firearms retailer and gunsmithing operation and graduated to full time manufacturing in 2013. Radical Firearms manufactures and sells over 2000 firearms per week.
For more information, visit: www.radicalfirearms.com.