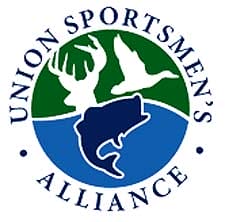 Franklin, TN -(AmmoLand.com)- The Union Sportsmen's Alliance (USA) has appointed Scott Vance as its new executive director. Vance will begin his new role Sept. 1.
Vance currently serves as the National Wild Turkey Federation (NWTF) vice president for hunting heritage and executive director for hunting heritage centers. In his nearly 17 years at NWTF, Vance piloted many successful endeavors, including leading a multi-national, multi-disciplinary team of wildlife and conservation professionals to restore the Gould's wild turkey to southern Arizona.
"The Union Sportsmen's Alliance is doing outstanding things for communities, wildlife and our conservation legacy," said Vance. "It is with tremendous excitement and gratitude that I accept this auspicious role. The opportunities that lie ahead for us are enormous, and the ability to serve the USA as we conserve our nation's treasured resources is deeply humbling and incredibly exhilarating. I look forward to helping enhance the lives of union sportsmen and women and their families in ways that are fun, rewarding and impactful."
With a background rich in wildlife conservation and biology plus his proven track record of successful, creative problem solving and nearly two decades of experience in the non-profit sector, Vance said he sees a wealth of potential in the USA and is eager to lead the 9-year-old non-profit into its next decade.
"We are at a critical crossroads in our country, and ensuring a strong conservation future depends on skilled, knowledgeable, dedicated people to make it happen," said Vance. "I couldn't be more confident that the men and women of the Union Sportsmen's Alliance are those kind of people."
Vance is a hunter and angler who spends time outdoors with his family and his champion bird dog, Hydro. For him, the USA's mission of conservation and preserving America's outdoor heritage goes beyond work – it's a part of his everyday life.
"Scott Vance has all the credentials to lead the Union Sportsmen's Alliance, but it's his genuine passion for the outdoors and conservation that set him apart as the clear choice," said AFL-CIO President Richard L. Trumka, who serves as the USA's chairman of the board. "He not only believes in our organizational values, but he lives them every day. I know that Scott has the vision and experience to propel the USA to new heights."
About the Union Sportsmen's Alliance:
The Union Sportsmen's Alliance (USA) is a union-dedicated, 501(c)(3) nonprofit organization whose members hunt, fish, shoot and volunteer their skills for conservation. The USA is uniting the union community through conservation to preserve North America's outdoor heritage.
For more information, visit www.unionsportsmen.org or connect on Facebook, Twitter and Instagram.