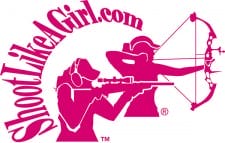 Athens, AL -(AmmoLand.com)- Shoot Like A Girl is privileged to announce their distinguished pro staff members:
Miranda Browne
Amy Crooks
Diane Danielson
Julie Devine
Brielle Eaton
Beth Edwards
Debbie Essex
Andrea Fisher
Suzi Greenlee
Shanna Hillis
Marissa Hoehn
Angie Kokes
Christina Krajcsovics
April Mack
Debi Martin T
Tammy Mayfield
Brooke McDonald
Donna McDonald
Julie McDonald
Amanda McGinnis
Samantha McKelvey
Jamie Meyer
Cassie Minor
Cindy Minor
Stacy Mitchum
Laura Moore
Colleen Payne
Chelsey Petit
Jill Pisani
Amy Ray
Emily Reinert
April Rouse
Jill Sadler
Raychel Shaw
Kristy Titus
Michelle Webb
Samantha Williams
Sloan Williams
Suzetta Wise
Whether it be in competition, community events, or the outdoor industry in general, Shoot Like A Girl is proud have their logo displayed in accordance with these extraordinary women. Shoot Like A Girl Professional and Shooting Staff are chosen based on their strong ethics and shared passion for shooting and hunting. Not only are they honorable in their championship, the selflessness these women display off the course while introducing and instructing firearms and archery, shows they truly are dedicated to empowering women in shooting sports.
"We are very fortunate to have such passionate women throughout the country that share our mission to empower more women to participate in shooting sports with confidence. With so many various skill sets and backgrounds, their unselfish willingness to share their experiences and passions is a huge asset to the Shoot Like A Girl mission." – Cristy Crawford, Chief Operations Officer Shoot Like A Girl
Shoot Like A Girl next Pro Staff/Shooting Staff application period will be September 1st – September 19th. For consideration, all applications must be submitted by September 19th.
To apply, please visit www.shootlikeagirl.com and click on the application link, any questions about should be sent to [email protected]
About Shoot Like A Girl:
Shoot Like A Girl (SLG2, Inc.) is a company dedicated to growing the number of women in shooting sports by empowering them to participate with confidence. With the help of our corporate sponsors who share the mission to grow the number of women in shooting sports by empowering them with confidence: Rocky Mountain Elk Foundation, 3M Peltor, Hunter Safety System, Bear Archery, Beretta, BowTech, Cabela's, Charter Arms, Colt, Danner, Federal Premium Ammunition, Game Plan Gear, GLOCK, Inc, Hogue, Hoppe's 9, Hoyt, Leupold, Neet Archery Products, Mathews Inc, Mossy Oak, Nikon, Rock River Arms, Ruger, Savage, Smith & Wesson, S & S Outdoors, Taurus, ThermaCell, Trijicon, TRUGLO, PSE, Weatherby, Women's Outdoor News, Upper Canyon Outfitters, and ASA.
To learn more about SLG2, visit Shoot Like A Girl online, or visit at Facebook and Twitter.